[Video & Photo] Suarez In Trouble Again After Biting Chiellini During Uruguay Win
Liverpool striker Luis Suarez has sensationally been accused of BITING an opponent for the third time in his career.
The latest incident took place towards the end of Uruguay's 1-0 win over Italy in the World Cup this evening. In the videos below, the Liverpool striker can be seen tussling with Juventus defender Giorgio Chiellini in the area when he appears to push his head towards the Italians shoulder.
Both players fall to the floor but Chiellini was incensed claiming Suarez had bitten him and he attempted to bring it to the attention of the referee by pulling his shirt down and showing him his shoulder.
From the video's and photo's below it does appear that Suarez has had another nibble and one photo clearly shows marks Chiellini's shoulder.
FIFA will no doubt have to take a look at the incident again but obviously this is the last thing Liverpool or Suarez need. The striker's just started to rebuild his reputation after being found guilty of biting Branislav Ivanovic in 2013 while he was also banned for biting an opponent during his time at Ajax.
Let's see what FIFA make of this latest incident….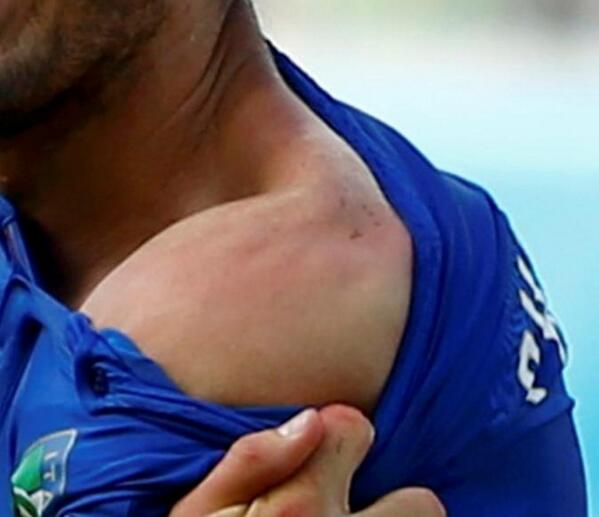 Best of the web