An Email From A Gooner: "If I owned Arsenal…"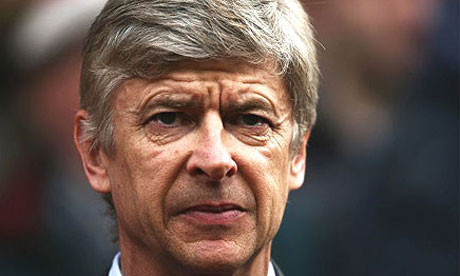 A Gooner emailed this to me on Sunday, hours after we were 'officially' dumped out of the title race…
Last week was very bad for Arsenal fans. First there was the price hikes for season tickets holders. Then there were the ticket membership scheme price hikes and misc. price hikes and then to top it all off, we play utterly crap against Stoke.

Is that really what we can expect to see after these hikes ?

I mean, it's bad enough that we already pay a fortune to watch Arsenal in TV subscriptions let alone the vast prices for tickets, but moreover to watch our beloved Arsenal could cost an average fan £1500 a year if you hold the cheapest season ticket and you subscribe to all sports channels. For the membership scheme it could even be around £1200 per year. Then on top of that you have petrol, train fares, food etc…. And Arsene wonders what is there to moan about? It's a lot of money to watch fancy football Arsene!

It's not like the old days where live matches were on the free channels and it only cost you a fiver at the north bank turnstiles. Losing was part and parcel of being a fan and we accepted it. Nowadays not only do we have the pain of losing but also the pain of feeling cheated by the club you love. And in all fairness, the club couldn't care. I mean, it's too big as there are years of waiting lists, so even if 'you' gave up your season ticket or membership, the club will not give a rats *** as they know someone will fill the gap you leave behind.

It's good to see that a group called Black scarf is doing something about this…

AN OPTIMISTIC POINT :

Now if we won trophies would we still moan?

In my opinion, no we wouldn't. Of course you would get the odd few who would but if we had the type of players we had in 2002 and 2004 and won competitions I don't think we would moan, I think we would consider it money well spent.

SOLUTION :

So what is the answer to all these problems? One idea I propose is that if the players underperform like they did against Stoke and so many other teams, they should give the ticket paying fans 10% of their ticket price out of their wages.

Will it work? Yes I think it would. I wonder how many poor performances we would see it if that was introduced? Plus the fans won't feel so cheated.

Will it ever be introduced? Not a chance in hell.

What about sacking Arsene Wenger before the summer break? The new man can get the players we need in before the new season starts. And there will be a huge amount of rebuilding…A point worth discussing indeed.

How about one more season?  Because there's no point sacking him once the season starts as the new man won't be able to sign any new players as well as having the no pre season to install his training plans and ideas. That's a difficult one on so many grounds. Who would we want as a replacement? Would he fit into the philosophy of Arsenal FC ?

Personally, I think the problem is with Arsene. It's that he knows he is 'un sack able' or invincible. If I owned Arsenal, I would call in Mr Wenger to the board room at the end of the season and tell him this season was not good enough, if we have the same thing next season, then we will have no option but to give you a gold watch, a painting of a spitfire and offer you a seat at this table. You have been warned Arsene!

Another idea I have is to call George Graham back to Arsenal to either act as a defender scout or a defensive coach. Yes he took a bung but I think a lot of managers did back then and he was made a scapegoat. Plus he handed the money back to Arsenal, so what did they do with the money? Anyway that's another topic. He at the end of the day is a proven defensive manager and a massive Arsenal lover who knows the history and beliefs of Arsenal unlike some of the players we have today.

But as football fans we are all great football managers and all believe we can do better than the current boss.

Arsene, you have been given a final written warning, see that this does not happen again!
I am not sure AW comes to this blog and reads what is written, hell I bet he has no clue what blogs are. But the point is that through this letter I can see what some sections of the GoonLand feel, and that is what is important. Remember the saying "United we stand divided we fall."  Kinda feels that way now…
Guns-out,
Other News
Arsenal are keeping a close eye on Benfica defender Alejandro Grimaldo this summer, Portuguese...

Chelsea are on the verge of finalising the transfer of Raheem Sterling from Manchester...