Man United Squad Analysis – Part 2
Today we have part 2 of our squad analysis. Yesterday the big call was in relation to Dimitar Berbatov and today the man who is most likely to divide opinion is Michael Carrick. Is he good enough to marshal the Premier League Champions midfield next season? See numbers 13 – 23 below: 13. Ji-Sung Park: The […]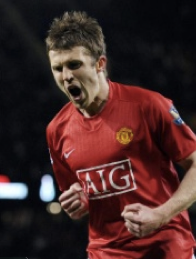 Today we have part 2 of our squad analysis. Yesterday the big call was in relation to Dimitar Berbatov and today the man who is most likely to divide opinion is Michael Carrick. Is he good enough to marshal the Premier League Champions midfield next season? See numbers 13 – 23 below:
13. Ji-Sung Park: The South Korean may not be the most talented player to wear the red shirt but he is one of the most reliable we have seen in recent years. Fergie plays Park in all the big games as he knows he will get nothing less than 110%. He chipped in with some important goals too this season and will be sure to be at Old Trafford when the season kicks off in August. Keep. 
14. Javier "Chicharito" Hernandez: Fans favourtie Chicharito took to life at United like a duck to water. Well liked by his team mates, adored by fans, Hernandez and United seem like the perfect match. The Mexican was widely regarded as the signing of the season and when he hit form after Christmas top scorer Dimitar Berbatov had to settle for a place on the bench. The future is bright for this man, he has what it takes to become a big star at United. Keep.
15. Nemanja Vidic: Our captain, the rock at the back, one of the best bits of business we have done in recent times was securing the Serb on a new contract last summer. He has grown since being given the armband and has led by example when we've needed him. One of the few who could stand tall after the Barca mauling. Keep.
16. Michael Carrick: Carrick enjoyed his best spell in the run-in this season but for me he's one we should let go. He has recently signed a new contract so will prob stay but I would try to cash in. Midfield is where we have been the weakest in recent times. We need some fresh blood, some new faces and we need to make room. Carrick is seen as a passer of the ball, some one to link play between defence and attack and I feel we need a truly world class player to take over this role. The Englishman has served us well but the time has come to put a "marquee" name top of our list. Unfortunately Carrick is the man I would move on to accommodate this. Ditch.
17. Nani: Top of the Assist charts in the league this season, Nani played a big part this season and was unlucky to miss out on the big games towards the end. Players' Player of the Year at the club, he has started to look like he could reach his potential. Lethal going forward, his final ball has improved dramatically and he is no longer as wasteful as when he first arrived. If he improves as much next year as he did this year we will have a serious player on our hands. Keep.
18. Paul Scholes: Red Legend. Sad to see another of the class of 1992 leave the first team. Will be staying on in a coaching capacity which is the least he deserves after over a decade of stirling service. Without a doubt the best English midfielder of his generation. Retired.
19. Danny Welbeck: Very promising youngster who was sent out on loan this season. Welbeck did well at Sunderland despite suffering a couple of injuries and his performances were rewarded with a first call up to Fabio Capello's England squad. Will be returning to the first team this summer and looking to push for place in Fergie's starting XI. Keep.
20. Fabio: Endured a frustrating start to life at United as he suffered numerous injuries, his brother Rafael's career took off while he looked on from the sidelines. Fabio has battled through though and was rewarded with a starting place against Barca at Wembley. Bags of potential, definitely one for the future. Keep.
21 Rafael: Looks likely to be United's first choice right back for years to come. Bombing forward he has been a joy to watch this season and defensively he looks solid. Has lost his head at times and still seems likely to pick up the odd red card when put under pressure. Like his brother he has potential and will no doubt improve over the coming seasons. Keep.
22. John O'Shea: Jack of all trades master of none? John O'Shea has slotted in right across the back four, has played in midfield, was brought on in the dying minutes as a target man up front in the midst of an injury crisis and even did a shift between the posts a few seasons back, however, when all are fit the Irishman finds himself on the fringes. O'Shea is always ready when called upon and never lets the side down, he's the type of player that every squad needs. Keep.
23. Jonny Evans: The Northern Irishman had a shaky start to the season but he came back after Christmas stronger and put in solid performances when selected. At the youthful age of 23 Evans has close to 100 appearances for the first team and will hopefully go from strength to strength in the next few years. Chris Smalling appears to have established himself as first choice reserve when Rio or Vidic are out but Evans can still be an important part of the squad. Keep.
Check out Part 1 of our Squad Analysis here
Do you agree or disagree?
Other News
Gabriel Jesus is set to undergo his medical in London on Tuesday as Arsenal...

Chelsea have been handed a boost in the pursuit of Raheem Sterling with the...