Arsenal vs WBA: Preview & Predicted Team
Guest post by Arsenal fan DKD:  
For those of you fat heads who feel we are going to sail through this one, let me remind you that the last time Albion came to the Emirates they emerged as winners. I got alot of stick from readers regarding my report on Marseille, and that was because I felt that the defence was out of shape. Well, not only do I still feel the same way but also let me point out the that we CAN lose to Albion this saturday.
I am pretty sick and tired of everybody gloating over Arsenal's revitalization. The media too has hyped up the fact that Arsenal have been reborn and fans have caught on like wildfire. Yes, we have improved but to say " Land Ho" in the middle of the sea when we have just stopped our boat from sinking is quite an exaggeration.
The media in my opinion is also to blame for such a fiaso for they drag anything for no reason. But then again if they don't do that nobody will care. When we beat Chelsea you heard "Arsenal are back" and when we drew to Marseille it changed to  "Gunners fire blanks."
Here is how I think we will play against Albion.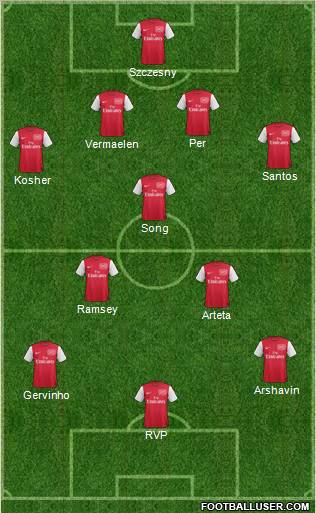 I was happy that the manager accepted the fact that the back 4 needs improvement and that alot of work has yet to be done on the grounds to get it right.
We have Vermaelen back and that in itself is and added boost. He takes off some pressure from Per who can now take his time in adjusting to the pace of the league. I think Koscielny will be drafted in to play right back and with Per and Vermaelen constituting the centre-back pairing. This saturday may be Kosher's debut as a right back and since Wenger has always said that he was educated as a full back its going to be interesting to see how he plays there.
Albion will be looking to hit us on the counter-attack and if we get an early goal that will certainly shift the mood in our favour. I definitely want 3 points but at the same time I want a solid defensive performance. To get past the defence is acceptable but to do that more than 3 times in one half is not, and that was why I was so upset against Marseille. Our defence needs to improve and fans who ignore this fact are delusional.
A good team has a stable defence, and history shows us that to win a league the back 4 should be top-class. Lets hope we have one!
Other News
Chelsea have submitted an opening offer of £15m plus Marcos Alonso in exchange for...

Manchester United have turned their attention to signing Cody Gakpo and Thomas Meunier after...