Man Utd Legend Claims Mourinho Would Get 'Knocked Out' For Handshake Antics
Roy Keane has blasted Jose Mourinho for trying to shake hands before the final whistle and claims he would get "knocked out" for doing it in Sunday League.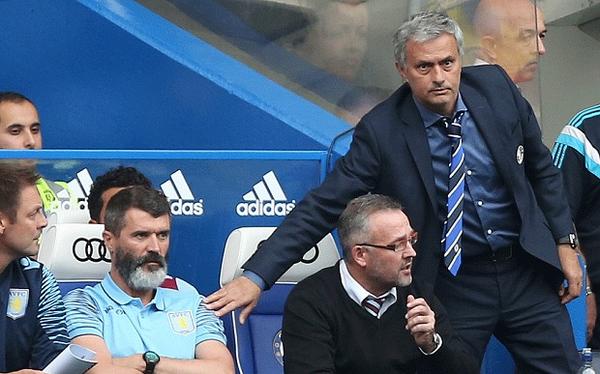 Manchester United legend Roy Keane has blasted Jose Mourinho for trying to shake hands before the final whistle and claims the Chelsea boss would get "knocked out" for trying such a thing in Sunday League football.
Mourinho is often seen attempting to shake the hand of his opposing manager before heading down the tunnel during the closing stages of games, but only when Chelsea are in a comfortable leading position in the match.
With the Blues cruising to a 3-0 victory over Aston Villa at Stamford Bridge last month, Mourinho walked over to shake hands with Paul Lambert before the 90 minutes were up but was swiftly denied by the Scotsman who pointed to his watch to remind him the game wasn't over.
Mourinho then made a half-hearted attempt to approach his assistant Roy Keane but was literally given the cold shoulder by the former Man Utd skipper, who didn't even acknowledge the Chelsea coach.
When quizzed by reporters about the incident at his book launch in Dublin on Thursday, Keane blasted Mourinho as 'disgraceful' and warned the Chelsea boss that he'd get 'knocked out' if he tried it in Sunday League football. He said:
"It's disgraceful.

"I've seen him doing it to other managers, it is a disgrace. The game is still going on. You wouldn't do that on a Sunday morning, you would get knocked out." source: Evening Standard
It's a scathing attack on Mourinho from Keane but lets face it, he's probably saying what all other managers think but is one of the few who has the balls to speak out.
Keane is right, shaking another managers hand and heading down the tunnel before the final whistle when your team is winning comfortably is disgraceful and shows a real sign of disrespect towards the opposing manager and team.
He's a fantastic manager and is someone who greatly enhances the Premier League, but I do wish Mourinho would put his own ego to one side and stop his ridiculous routine of insulting other managers with his premature walk-outs.
Other News
Chelsea are close to reaching an agreement with Barcelona for the sale of defender...

Raheem Sterling is set to join Chelsea on a four-year contract as the Blues...