4 Talking Points From Arsenal's 2-1 Win Over Crystal Palace
Arsenal moved third in the table after securing a 2-1 victory over Crystal Palace on Saturday afternoon. Here are 4 talking points from the game by Gunner333
Arsenal moved third in the Premier League table after securing a hard fought 2-1 victory over Crystal Palace on Saturday afternoon. Here are 4 talking points from the game by Gunner333….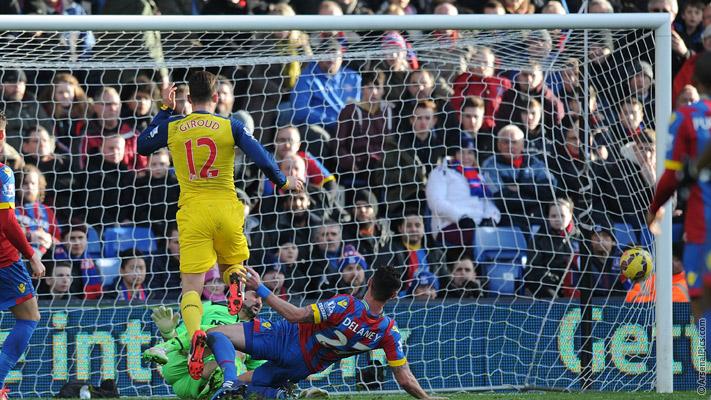 Sandwiched between a cup victory over Middlesbrough and the forthcoming European encounter with Monaco, Arséne Wenger's side faced an inevitably tough trip to Selhurst Park. Welbeck replaced Walcott for the clash, whilst Jack Wilshere returned from injury after three months out, to start on the bench.
Crystal Palace had the Gunners under pressure in the early stages, until a loose ball found Welbeck on the edge of the area, Eagles new-boy Souare committing to chop down the former-United man right on the edge of the area. Dubious Clattenburg's decision to award a spot-kick may have been, Santi Cazorla comfortably tucked away the penalty to put the visitors one up.
It took little time for Arsenal to double their lead, Welbeck at the heart of the action once again, his effort rebounding to Olivier Giroud who poked home from close range on the stroke of half time. Despite performing below their usual standards, the Gunners now had a secure lead to defend.
Puncheon looked the most likely to threaten in the second period, but after a sustained period of Palace pressing, the visitors broke via Mesut Özil who pulled the strings yet again, linking up with Sanchez, the Chilean un-characteristically firing wide.
Wenger's side held a strong line for the most part of the ninety but fell short to a consolation, moments before the final whistle. A scramble in the box eventually fell to goal-starved Glen Murray who bundled home.
The three points would be greatly welcomed for the North-London club, who would leap-frog a Man United side which fell to defeat at Swansea the same afternoon. A sound result which I shall now discuss four talking points from.
1. Winning Ugly
Fast becoming a common denominator amid the catalogue of inconsistent results being thrown up by the Gunners this season is the ability to win without dominating the game. The side went one further and secured victory, despite looking no more aesthetically pleasing than a Sunday League team when in possession. Özil and Cazorla were still focused when holding the ball, but neither goal was particularly special and it remained a case of simply 'getting the job done'.
When playing teams like Palace who, no disrespect, focus their attacking game around set-pieces or a solid aerial threat, you must be physically capable and battle for the loose balls in the middle, which we did. The ability to adapt to the other team's preferred style in order to scrounge a win is vitally important.
2. Ospina A Worry
On his day the Colombian can be red-hot with his acrobatic shot-stopping and I myself have spoken of his confidence at grappling the ball from set-pieces. However, yesterday, as with the North-London derby, he looked like a ticking time-bomb and rendered a rabbit in headlights when Murray struck late.
Ospina almost cost us two valuable points right at the death as he completely missed Bolasie's 95th minute cross but thankfully Murray crashed his header off the base of the post. I'm certainly not convinced he's the answer to our goalkeeping problems but it looks like he could have until the end of the season to try and prove he has what it takes to be our long-term No.1
3. Giroud's Absence A Blessing
The Frenchman has had his time away from the game due to various casualties since early season, but since returning has looked a changed player. Now far more ambitious and seemingly of greater fitness, Giroud has scores 8 goals in his last 10 appearances and, although prolific beforehand, looks like he may be morphing into the front-man we have so desperately desired.
Wenger's front options supply many different characteristics, Sanchez quick and agile, Welbeck nimble but physical and Giroud shows everything, aside from that extra bit of pace. He has been picking up positions more intelligently of late, perhaps due to an improved hunger to find the net and let us hope this change is permanent.
4. Two Halves of Defence
Wilfried Zaha, Dwight Gayle and Yannick Bolasie were always going to be dangerous and Nacho Monreal and Calum Chambers had problems dealing with their blistering pace all afternoon. Monreal could have been left with egg on his face had Palace's final product been better, the Spaniard especially poor at keeping tabs on the forwards.
Wenger's decision to bring on Gibbs for extra protection down the left side highlighted the calamitous display from Monreal, but there were no such problems through the middle of defence. Substitute Paulista came on to support a solid combination of Mertesacker and Koscielny who, this week, decided to clear the danger efficiently, the very late lapse in concentration from the whole defending unit the only blunder.
An important three points earned this week, but attention must now turn to consolidating in a vital Champions League meeting with Monaco, where we can begin to light a path to the latter stages of the competition for the first time in recent years.
Other News
Arsenal take on Leicester City at the Emirates Stadium on Sunday evening. Here is...

Liverpool turn their attention to the Premier League where they host Sheffield United at...