4 Positives From Arsenal's 3-0 Victory Over West Ham
Arsenal eased to a 3-0 victory over West Ham on Saturday to close in on the top two in the Premier League table. Here are 4 positives from Gunner333….
Arsenal eased to a 3-0 victory over West Ham at the Emirates Stadium on Saturday afternoon thanks to close in on the top two in the Premier League table. Here are 4 positives from Gunner333….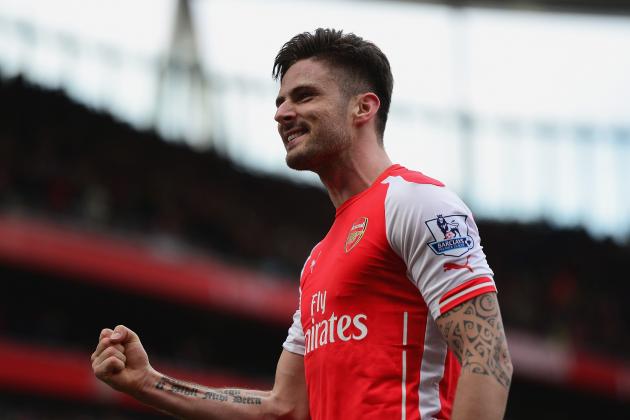 Boasting seven wins in their last eight league outings, the Gunners approached their game with West Ham in high spirits. Wenger made four changes to the side victorious at Old Trafford on Monday. Walcott replaced the injured Chamberlain, whilst Ramsey and Giroud came in for Cazorla and Welbeck, meanwhile Ospina started between the sticks.
Arsenal spurned a number of chances in the first half but they eventually broke the deadlock on the stroke of half-time. Giroud exerting authority to take the ball inside after a string of passes, to lash one across goal and out of reach of Adrian, to bag his fourteenth of the season.
Finding a second and killer goal would prove frustrating for Arsenal as the game wore on, Wenger showing incentive to gain a stranglehold in his changes, bringing on both Cazorla and Welbeck with roughly twenty minutes remaining.
It would be the game's old guard who would work the second though; Giroud exchanging short passes in the box with Ramsey, who picked his spot to double Arsenal's lead and unleash a sense of relief around the Emirates.
Just minutes later and the third would arise following another period of quick Arsenal movement. Flamini ghosting in at the far post to poke home his first of the season from close range and confirm the three points for the Gunners.
A well-deserved result, coming off the back of an authoritative and dominating display by Arsenal; whose performance I shall now depict, as I discuss four positives from the victory.
Return Of 'Tiki-Taka'?
It has certainly been a bizarre season, one perhaps encapsulated by the inconsistency of Arsenal's style of play. Recent weeks have seen the side boycott the old, attractive approach in order to grind out an ugly victory, but given the rebellious form shown of late, the Gunners look comfortable in returning to their former selves.
Personally, I believe this game was one of the most fluid and stylish performances all season, with Arsenal's game being focused around short, quick inter-changes and great movement across the front. The first goal came as a result of shifting the ball forwards through quick passing and the end product was sublime. The same with the second goal as Giroud and Ramsey's exchange of passing was superb.
Hungry Midfield
Two traits embedded themselves within the team; a hunger for goals and the efficiency to grab them. Re-watch the game and it is evident that on a number of occasions when Arsenal held the ball out wide, up to six players would be lingering with the edge of the penalty area, ready to 'flood' the box.
This pressing style supplied strength in numbers and, although leaving some concerns with regard to a counter exposing the side, it generally made for a potent attacking threat.
Meanwhile, through the middle it was also a case of playing off one another, none more so than for Ramsey and Özil. One would drop back if the other decided to drive into the area, meaning Coquelin was seldom left as a lone-anchor and this restricted West Ham's attempts to break.
Walcott Recovery
Still a slave to injury, the Englishman has found it difficult to rediscover his electric form from recent seasons since returning to fitness. It's a gradual process, but getting him game time is the only way to develop. There was no doubting the rapid movement he showed in this game, but the final product was lacking.
His pace will always be vital for him to pick up pockets of space and drive at goal, but that loses its venom if you cannot pick out a man or find the net. However, hopefully Walcott's decision making and finishing will improve with minutes on the pitch.
Focal Frenchman Giroud
One of twenty-one different goal-scorers this season, Arsenal claiming the most in the Premier League, Giroud has been one of the most important components to the Arsenal attack, despite his spell sidelined with injury.
Against the Hammers, a physical side by nature, Olivier was exceptional, holding up the ball regularly to create options for his team mates. He provides the side with so much and is somewhat underrated, with his regular contribution in the goal-mouth sometimes overshadowed by his wayward finishing when in a bad patch of form.
Not one reliant on pace, Giroud is still pretty agile and exhibited once again how he can find space in the box and his link-up with Ramsey for the second showed once again how he can set them up as well as score them.
Once again a brilliant showing by the Gunners, who will be eager to use this win as fuel for the Monaco clash. In terms of the league, Man City and Chelsea dropping points has opened the door to Arsenal fans being as optimistic as they please, dare I say a late 'title-challenge'?
Other News
Manchester United take on Leicester City at Old Trafford on Tuesday night. Here is...

Mikel Arteta has provided fitness updates on Granit Xhaka, Pablo Mari, David Luiz and...