Arsenal Star To Start FA Cup Semi Final After Recovering From Injury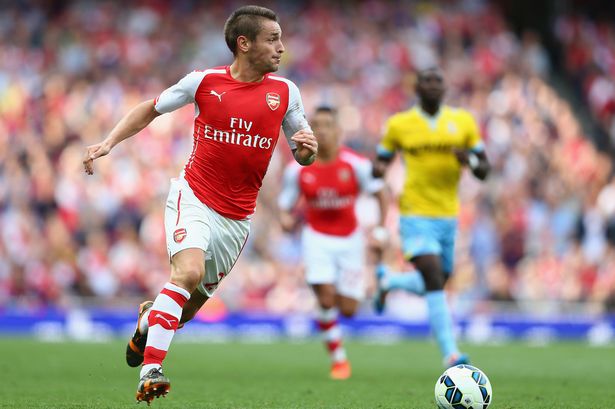 Right-back Mathieu Debuchy is set to start in Arsenal's FA Cup semi final against Reading on Saturday evening after finally getting back to full fitness, according to reports.
Debuchy has endured a hugely frustrating first season at the Emirates as he's been restricted to making just 10 Premier League appearances following his £12m move from Newcastle United last summer.
The French international missed almost the entire first half of the season with an ankle injury and only made a handful of appearances upon his return before dislocating his should against Stoke back in January.
However, the 29-year-old has since returned to full training and worked on his match fitness with a run-out during a friendly win over Brentford earlier this month, and it seems he's set for a recall to the first team.
The Daily Star are now reporting today that Debuchy will not only return to the squad this weekend, but they claim he will start against Reading at Wembley on Saturday evening.
Hector Bellerin has been outstanding at right-back in recent months but the newspaper suggests that Arsene Wenger feels the youngster needs a rest and will therefore bring Debuchy straight back into the first team this weekend.
Obviously it's excellent news that the Frenchman is back fully-fit again but I actually think it would be extremely harsh to leave Bellerin out of the FA Cup semi final considering how well he's played during our run to Wembley.
The problem is, that if he does need a rest then it's probably better to do it against Reading than against Chelsea the following weekend so we either take a risk and play Bellerin for the next two games and rest him at Hull at the start of May, or we take the opportunity now against Reading.
If Debuchy does start this weekend, let's hope he's not too rusty as it's likely to be a high-intensity game and he's only played 60 minutes in a friendly against Brentford over the past four months.