Liverpool Star Confirms 6-Week Lay Off After Posting Injury Update On Instagram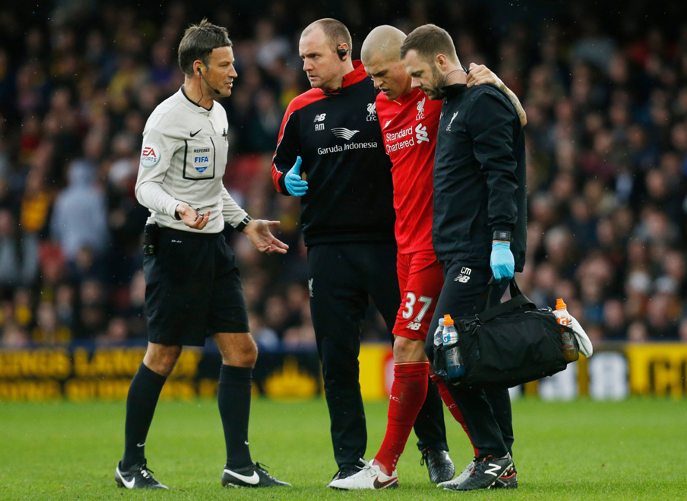 Liverpool defender Martin Skrtel has offered an injury update on Instagram and confirmed he'll miss the next six weeks with a hamstring injury.
The Slovakian international suffered a tear in his hamstring during the disappointing 3-0 defeat at Watford on Sunday afternoon and initial speculation suggested he could be facing up to three months on the sidelines.
However, Skrtel has now taken to Instagram to clear up the confusion after confirming that he will in fact only be out for six weeks and the centre-back has vowed to return stronger than ever.
Skrtel's Instagram message said:
"After all the rumours going around, I want to say the time I will spend on the sideline wont be three months after I suffered tear in my hamstring and tendon.

"I will be out for 6 weeks. I will work hard on my recovery and will do everything to come back as soon as possible and even stronger than before! Thanks for your support!"

'#Collymore', '#2yearsoldbaby', '#keeptalking' and '#whatdoesntkillyoumakesyoustronger'.
Skrtel's Instagram post also included a photo of a lion with a message reading "You never know how strong you are, until being strong is your only choice.".
This was in response to Stan Collymore's criticism when the former Reds' striker Tweeted during the defeat at Watford "Skrtel showed the strength of a two-year-old toddler against Ighalo.".
Skrtel's injury update will be bitter sweet to Liverpool as although it would have been a disaster to lose the defender for three months, it's still a huge blow to be without him for the next six weeks.
The defender is now set to be ruled out of the entire Christmas and New Year period and he could end up missing as many as ten games including Liverpool's two-legged Capital One Cup semi-final with Stoke.
Best of the web