What Will Chelsea Look Like Under Antonio Conte?
Antonio Conte is 'one meeting away' with Roman Abramovich from becoming Chelsea manager, so what can we expect from a Blues side under his direction?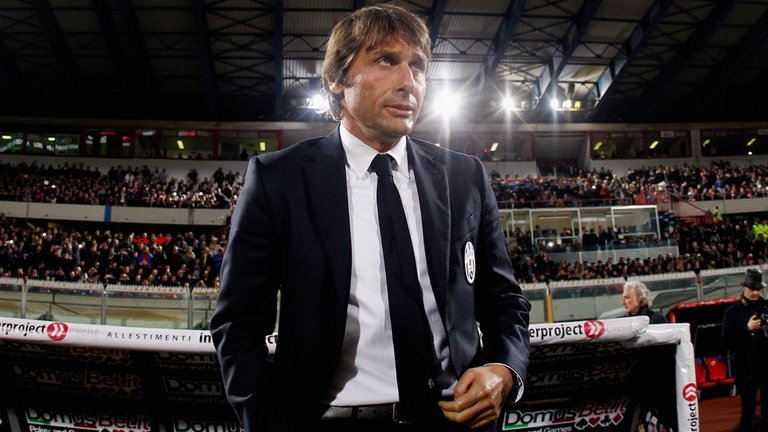 According to the Telegraph, Antonio Conte is 'one meeting away' with Roman Abramovich from becoming Chelsea manager. With the Azzurri manager now the bookie's favourite, what can we expect from a Blues side under his direction?
1. A Packed Defence
Chelsea have always been a team that puts results first, and entertainment second. Apart from memorable relapses under Felipaõ and André Villas-Boas, the Blues have been successful by being zealous at the back and tenacious in midfield.
Don't expect this to change under Antonio Conte. The Italian likes playing with 3 centerbacks, with Chiellini, Bonucci and the still-underrated Andrea Barzagli being the cornerstone of Juve's rearguard resurgence. This could have implications for the likes of Oscar, who famously scored a stunning goal against Contes side in the Champions League.
2. More Pressing
Conte's Juventus were famed for their tireless work rate, pressing hard as a team to win the ball back high up the pitch. 'Pressing' has become something of a buzzword in the football coaching world, but there's a reason for this – it works. Expect Chelsea to work like dogs to get possession of the football. This should be music to the ears of Blues fans, who have watched their players put up a timid defence of their title this year.
3. A Side Motivated to Succeed
When Conte took over the reins at the Stadio Delle Alpi in 2011, Juventus were still finding their feet and rebuilding their reputation after the Calciopoli scandal. Less than 12 months later, he had equalled Fabio Capello's run of 28 games without defeat, before completing an unbeaten season and delivering the Scudetto for the first time in six years. They would win two more League Championships under the Lecce native, who used his supreme motivational skills to drag Juventus back to the footballing top table.
4. Playing with Two Strikers
In a refreshing break from coaching convention these days, Conte prefers to deploy two centre forwards. For Juventus, Carlos Tevez was assisted (with differing levels of success) by a supporting cast of Fabio Quagliarella and Fernándo Llorente amongst others.
Coupled with Diego Costa's unpredictable form this year, there may be an opportunity for Loïc Rémy to stake a claim for a regular place in the starting eleven. It's more likely though that January signing Alexandre Pato will have a chance to reclaim his footballing reputation. 'The Duck' will be relishing his second chance at the footballing bigtime, whilst still being relatively young enough to make a long-term impact at the club if his loan move is made permanent this summer. Conte is also likely to bring in another front-man to bolster his attacking options.
The future, of course, is never black and white. But under the tutelage of Antonio Conte, Chelsea fans can rest assured that their team will be fighting from the off to reclaim their title next season.
Other News
Manchester United take on Liverpool at Anfield in a top of the table clash...

Liverpool take on Manchester United in a top of the table clash at Anfield...