6 Possible Replacements for Arsène Wenger
If the unthinkable happens and Arsenal Wenger resigns as Arsenal manager, here are some of the likely (and unlikely) candidates for the Emirates job.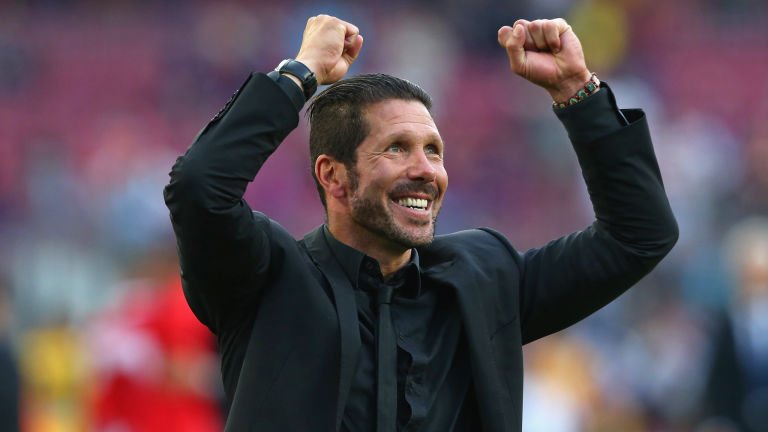 Benjamin Franklin thought there were only two certainties in life. This week we can add a third, as Arsenal deliver their yearly implosion under Arsène Wenger.
Sunday's FA Cup defeat to Watford was followed by a flaccid European exit at the Camp Nou on Wednesday.  Its been a horrible two months,  with just  two wins domestically and a sixth consecutive failure to reach the last eight of the Champions League.  At the time of writing, Arsenal are eleven points adrift of League leaders Leicester city with a game in hand.
Clearly, something has to change. If the unthinkable happens and Wenger resigns, here are some of the likely (and unlikely) candidates for the Emirates job.
1. Diego Simeone 
The Argentinian firebrand has brought unprecedented success to Atlético Madrid, winning La Liga in 2014 and bringing Los Colchoneros to the Champions League Final.
His passionate displays on the touchline at Vicente Calderón would be a welcome sight at the Emirates, where fans would give anything to see a team represent their club with the intensity on display from Simeone's men.
2. Manuel Pellegrini 
Perhaps the most under-appreciated manager in European football, the quiet Chilean delivered the Premier League and League Cup in his debut season at Eastlands, as well as an exciting attacking style that saw City break the record for 'goals scored' in a Premiership campaign. Music to the ears of Arsenal fans, who have been so starved of goals from a lackluster forward line of late.
3. Thomas Tuchel
The young German is building a formidable reputation with Dortmund in the Bundesliga, having masterminded the 5-1 (agg.) annihilation of Spurs in the Europa League on Thursday. The 42 year old is a disciple of Jurgen Klopp's gegenpressing, ultra-intense style, and his affinity for Barcelona's tactical approach would be welcome at the Emirates.
4. Dragan Stoijkovic 
The former Yugoslavia captain and Red Star stalwart played under Wenger in Japan for Nagoya Grampus Eight. He has been singled out by the Arsenal manager as a potential successor, who said "Our ideas are the same and we both strive for perfect football". It wouldn't be the first time Arsenal plucked a manager from Asian football, and we could well be reading headlines like 'Dragan Who?' come the summer.
5. Dennis Bergkamp
A signing that would send the Gunners faithful into raptures. The cerebral Dutchman has helped Frank De Boer rejuvenate Ajax, encouraging a return to their possession-based style and playing a major role in the Amsterdammers bagging 4 consecutive Eredivisie titles in the process. His dearth of experience in the managerial hotseat could go against him, however, whilst the Emirates brief would be a daunting task for even an experienced coach.
6. Patrick Vieira
Another playing icon for the club who seems destined for a managerial spell in North London. The former head of Elite Development at Manchester City, Vieira has made a promising start to his tenure as coach of New York City FC. If he can channel the same drive and aggression he had as a rip -roaring midfielder, we could well see the Senegalese-born coach make a return to the club where he made his name.
Of course, most Arsenal fans will be hoping their current manager can arrestthe slide in performances. Despite recent results, Wenger remains one of the premier coaches in world football and has shown his capacity to overcome adversity in the past. You feel, however, that his time is slowly running out.
Who do you think should replace Wenger at Arsenal? Leave your comments below….
Other News
Chelsea take on Luton Town at Stamford Bridge in the fourth round of the...

Manchester United take on Liverpool at Old Trafford in the fourth round of the...