Agent Claims Arsenal Star Is Unhappy Due To Unfair Criticism
Mesut Ozil's agent claims the player feels he's being made to be a 'scapegoat' for Arsenal's problems following our humiliation at Bayern Munich on Wednesday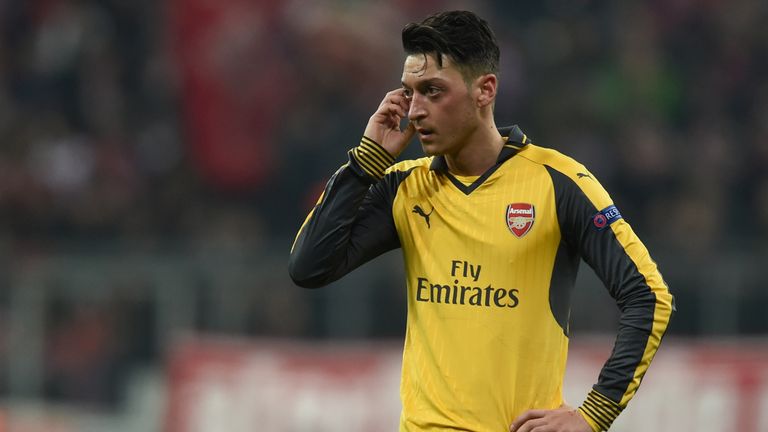 Mesut Ozil's agent claims the playmaker feels he's being made to be a 'scapegoat' for Arsenal's problems following our humiliation at Bayern Munich on Wednesday night, according to quotes by the BBC.
Ozil was singled out for criticism after we were thrashed 5-1 at the Allianz Arena earlier this week with many pundits and newspapers once again calling in to question his work ethic and attitude.
It certainly isn't the first time the 28-year-old has been the focus of criticism following an Arsenal defeat and even many fans seem to single Ozil out on social media after poor results.
Ozil's lawyer and agent, Dr Erkut Sogut, has now jumped to the players defence by saying Mesut feels he's become a 'scapegoat' when we lose and believes it was unfair to pick on Mesut after the Bayern game as he was unable to influence the game due to our lack of possession.
The German international has developed a reputation for not turning up in big games but Sogut feels that's unfair and points to Ozil's excellent performances against Chelsea and Manchester United as examples to support his case.
People also question Ozil's work ethic as he often looks uninterested when we don't have the ball but Sogut's basically says that's just what Mesut is like so we have to get used to it.
However, the agent insists that the criticism isn't affecting Ozil's performances and believes his client is fully committed to Arsenal for as long as he plays for the club.
Sogut said to the BBC.
"Criticism is normal if a player plays badly. But Mesut feels people are not focusing on his performance; they are using him as a scapegoat for the team after bad results."

"Bayern had 74% possession. How can someone in the No.10 position create chances if you don't have the ball?

"In these games people usually target a player who cost a lot of money and earns a lot of money – that is Mesut. But he can't be always be the scapegoat. That's not fair.

"Football is a team sport and Arsenal are not performing well as a team. Eleven players were on the pitch but Mesut was singled out for criticism. Was he the reason that Arsenal conceded five goals?

"It started before the match, throughout the week leading up to the game. People started discussing: 'Should he play? Should he be dropped?'.

"It was as if everyone knew Arsenal would not make it through and we needed a scapegoat. This is not right. You win as a team and you lose as a team.

"I don't agree that Mesut has not had an impact on big matches. What about the win at home to Chelsea this season and Manchester United the year before? What about the games for Germany against Italy and France at Euro 2016?

"People are always saying Mesut is not fighting or tackling, that he has poor body language, but that is how he is.

"Believe me, he is desperate to succeed. If it doesn't work, he shows his anger and expressions. Was his body language an issue when Arsenal were playing well?

"He is not someone who runs around aimlessly and tackles just so everyone thinks he is fighting. If it doesn't make sense to run somewhere he will keep that power for the next run."

"I don't think the criticism has affected his performance or his mental state. Mesut is committed to the club. There is no doubt that he will perform at 100%, with total professionalism and commitment as long as he plays for Arsenal. Nothing will change that.

"He is sorry to the fans, and he's sorry that he and his team-mates couldn't give the fans a better result in Munich."
Ozil played badly on Wednesday, no doubt about it, but so did many other Arsenal players and I do think the criticism of him is way over the top when we lose.
The fact is, he's a luxury player who doesn't like to do the dirty work and we just need to accept it. Mesut will be the best player on the park when we're playing well but the worst player when we play badly.
However, in games like on Wednesday night we look to our big names to help turn things around and too often Ozil isn't up for the fight. He just doesn't seem interested in rolling his sleeves up, putting a shift in and getting the team playing.
You can throw all the 'miles covered' stats at me you want but I sat and watched Ozil walk around aimlessly as Arjen Robben cut in on his left foot right in front of him to score the opener. Mesut didn't make any attempt to get goal side and prevent the shot. It may not be his primary role in the side but against teams like Bayern we need all eleven players to do their bit.
However, he certainly wasn't the only player at fault and I do think the criticism aimed at him is unfair. It's not his fault he cost £42m and Coquelin cost nothing.
We just need to accept his flaws and enjoy Ozil when he's at his best because he is a fine footballer. Sadly he might not be around next season.
Other News
Chelsea have been highlighted as a possible destination for Ivan Perisic, who would welcome...

Arsenal will be desperate to get back to winning ways when they take on...