[Tweets] "Wow" – Fans React After Arsene Wenger Confirms He's Leaving Arsenal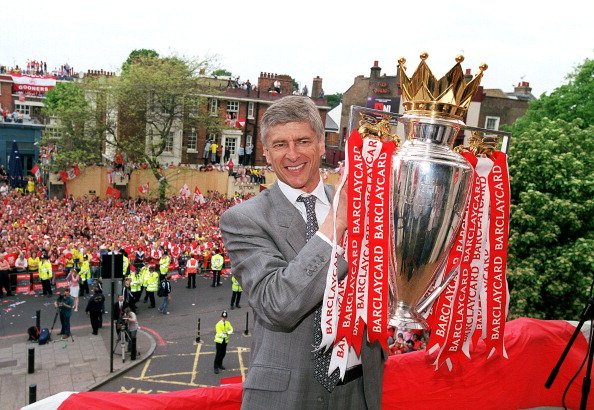 Arsenal fans have been reacting in a state of shock on social media after Arsene Wenger dropped the bombshell that he'll be leaving the club at the end of the season.
Wenger has seen his position as manager come under increasing pressure this season following another disappointing campaign that's set to end with us finishing outside the top four for the second consecutive year.
We could still salvage something from the campaign with a Europa League semi-final against Atletico Madrid set to come but even success in Europe hasn't been enough to stop a growing number of fans calling for change.
There has been a visible decline in the number of fans attending home games in recent weeks and the vast majority of supporters have been calling for a change in management this summer.
They have got their wish as Wenger confirmed this morning in a shock statement that he will step down as Arsenal manager at the end of the season following nearly 22 years in charge.
A statement on Arsenal.com read:
"After careful consideration and following discussions with the club, I feel it is the right time for me to step down at the end of the season.

"I am grateful for having had the privilege to serve the club for so many memorable years.

"I managed the club with full commitment and integrity.

"I want to thank the staff, the players, the Directors and the fans who make this club so special.

"I urge our fans to stand behind the team to finish on a high.

"To all the Arsenal lovers take care of the values of the club.

"My love and support for ever."

Arsene Wenger
Understandably, fans have been left in a state of shock at the news. There are some supporters who have been celebrating the announcement but the vast majority have chosen to praise Wenger and acknowledge what he's done for the club over the past 22 years.
3 Premier League titles, an unbeaten season, 7 FA Cups, 20 successive years in the Champions League, possibly a Europa League trophy and playing a key role in the move to the Emirates is a legacy that will be tough to beat.
Here are some of the reactions we've seen on Twitter since Wenger announced his departure:
Wow

— Darren (@DarrenArsenal1) April 20, 2018
Goes to the character of the man to do it early and allow the club to be in best position for new mans plans for next season. Thank you Arsene. "The king is dead, long live the king"

— Darren (@DarrenArsenal1) April 20, 2018
It feels like a family member has died. I can't imagine not seeing Arsene Wenger bringing our team out next season

— ARSENAL (@Artekkers) April 20, 2018
BREAKING: Wenger out. pic.twitter.com/HBuwQdY9aw

— Piers Morgan (@piersmorgan) April 20, 2018
YEEEEEEEEEEEEEEEES!!!!!!! FINALLY!!!!! This is one of the best days of my life.

— Arsenal Report (@ArsenalReport) April 20, 2018
It's what everyone wanted yet it makes me so sad to read this ? https://t.co/QcCtUbOUXL

— ARSENAL (@Artekkers) April 20, 2018
Fucking hell its actually happening https://t.co/zwecIbikDO

— Scott Davis Gooner (@ScottyDavisAFC) April 20, 2018
Well done Arsene. Correct decision and in best interests of the club you love. Hugely looking forward to Sunday now. A mixture of celebration of past achievements and anticipation of an exciting and new direction for our great club in 2018/19 and beyond.

— Dave Seager (@goonerdave66) April 20, 2018
WENGER TO LEAVE UNREAL!

— Le Grove (@LeGrove) April 20, 2018
Most of us wanted change. But deep down we all love that man, and we all know he truly cares about our club. Full houses for the rest of the season. Europa League Winners please. Big Weng ??

— AFCAMDEN (@AFCAMDEN) April 20, 2018
Cannot genuinely collect my thoughts at the moment. Yes it's been an overdue moment but he's the only manager I've had since I was 13. So many wonderful memories and moments.

— JD (@JamieDalton82) April 20, 2018
Let's go & win Europa League for this living legend, this man deserves an incredible send off for his service. #afc

— Gunner (@GunnerReport) April 20, 2018
I'm shocked. Absolutely amazed about the news.

I'm hoping now everybody can give Arsene Wenger the respect & thanks he deserves and make sure he leaves with the finest of send offs.

A fantastic servant to the club & his departure truly does mark the end of an era.#MerciArsene

— Moh Haider (@ArsenalMoh8) April 20, 2018
Yes, these past few years have NOT been easy, but Arsene has always given 100% & has the club's best interests at heart. The greatest Arsenal manager in history. You'll always be remembered, boss. #MerciArsene? pic.twitter.com/r4PcsIxLRO

— Joe Nelson (@Joe_Nelson1994) April 20, 2018
Oh wow, I'm speechless… I cannot believe after ten and a half years of #WengerOut, he's finally gone.

— Le Grove (@LeGrove) April 20, 2018
This is legit the saddest day for me as an Arsenal fan. Will forever be in your debt, now and always my hero. One Arsène Wenger. pic.twitter.com/n9dYa4Auth

— Spanish Gooner #MerciArsène (@elspanishgooner) April 20, 2018