Official Website Confirms 46-Year-Old Is Arsenal's New Manager
Unai Emery's own official website – unai-emery.com – appeared to confirm the Spaniard is now the new Arsenal manager last night.
The club have been searching for a new boss ever since Arsene Wenger announced he was ending his 22-year reign in north London just over a month ago.
The long-serving Frenchman cleared his desk at London Colney earlier this week but Arsenal chiefs are still yet to officially announce his successor.
Mikel Arteta seemed destined for the job with many media outlets suggesting it was a 'done deal' but a dramatic u-turn saw Unai Emery emerge as the man to take over from Wenger.
News broke on Monday that chief executive Ivan Gazidis, head of football relations Raul Sanllehi and head of recruitment Sven Mislintat had unanimously opted for Emery following a rigorous recruitment process that saw Arsenal interview several candidates.
We've been waiting for an announcement and it looked like we had confirmation late on Tuesday night when Emery's official personal website published an image of Emery next to an Arsenal badge with a caption saying 'proud to be part of the Arsenal family'.
Here is a screenshot of the image: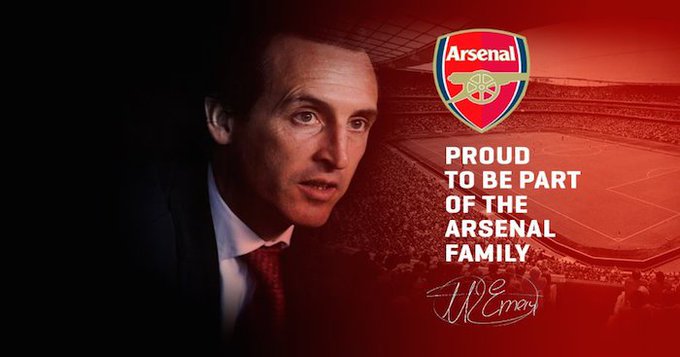 The image was quickly deleted as the website had jumped the gun but it seems only a matter of time before Emery is officially revealed as Arsenal's new manager.
The 46-year-old is far more experienced than the likes of Arteta as he won the Ligue 1 title and 4 cups during a two-year spell at PSG after winning three consecutive Europe League trophies while manager at Sevilla.
Emery is a young coach who is demanding on his players, works hard on the tactical side of the game and still likes to play attacking football so I think he sounds like an excellent choice to replace Wenger.