'Heartbreaking', 'Gutted' – Some Fans React After Arsenal Star Suffers Serious Injury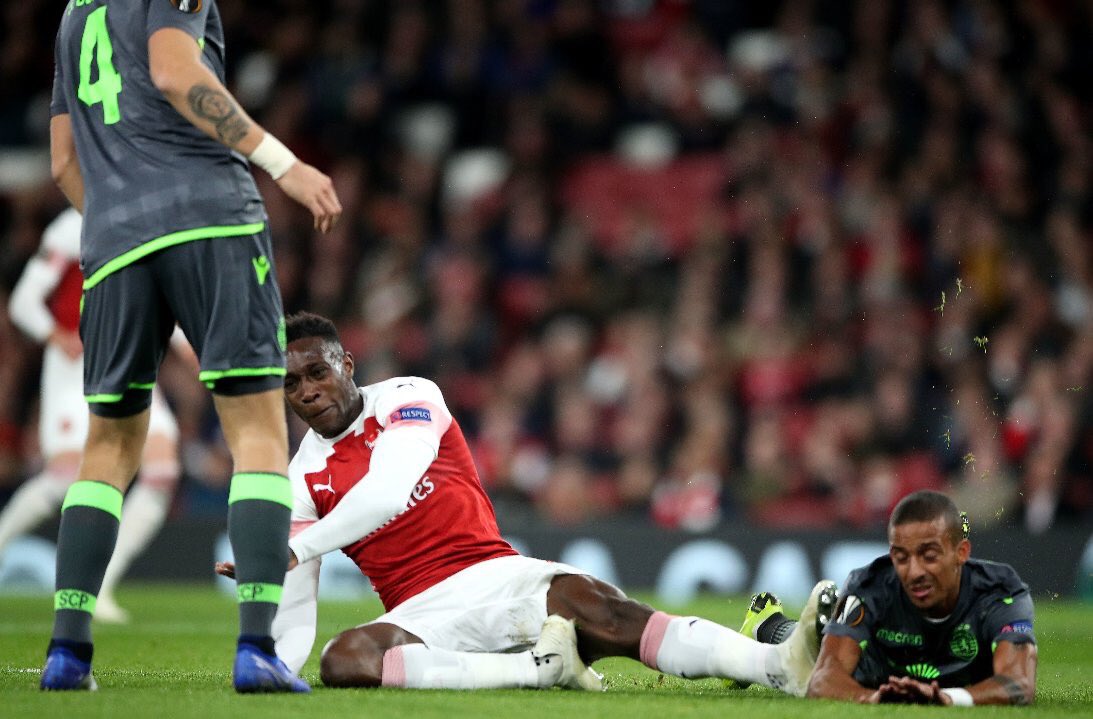 Some Arsenal fans have been reacting on social media after Danny Welbeck suffered what looked to be a serious injury during our Europa League clash with Sporting Lisbon this evening.
Unai Emery made plenty of changes from the side that drew with Liverpool on Saturday evening with Welbeck among those recalled as the England international replaced Alexandre Lacazette up front against the Portuguese giants tonight.
Welbeck was looking lively early on and almost opened the scoring when he latched on to a Stephan Lichtsteiner cross but his effort was cleared off the line by a Sporting Lisbon defender.
However, Welbeck's night was over soon after as the striker went down in a heap after challenging for a header midway through the first half and he immediately called for the Arsenal medical team.
It was clear the forward was in considerable pain with his Arsenal team mates looking on in shock as Welbeck was given oxygen as the physios put his right ankle into a splint before carrying him off on a stretcher in the 30th minute to be replaced by Pierre-Emerick Aubameyang.
Understandably, fans have been expressing their disappointment that Welbeck appears to have suffered yet another serious injury as his career at Arsenal has been blighted by a number of injury problems since he joined from Manchester United.
Supporters have taken to social media to say how 'heartbreaking' it is while TV presenter and lifelong Arsenal fan Piers Morgan was among those to say how 'gutted' they are for Welbeck.
Fans have also been speculating that we won't see Welbeck play again this season. We'll have to wait for updates from Unai Emery after the game but let's pray it's not as serious as it seemed on TV.
Check out what some fans have been saying following Welbeck's injury:
Well that's just heartbreaking for Danny 😢

— Daily Cannon (@DailyCannon) November 8, 2018
Gutted for @DannyWelbeck. Poor guy. #afc pic.twitter.com/SO6UfQaF9m

— Piers Morgan (@piersmorgan) November 8, 2018
Oh man, I'm so so gutted for Danny Welbeck.
I really hope the injury isn't as bad as this picture makes it seem. 😳 pic.twitter.com/g9TO3kJfuK

— Moh Haider (@ArsenalMoh8) November 8, 2018
Poor Danny Welbeck. Difficult to find words for quite how unfortunate he has been with injury.

— gunnerblog (@gunnerblog) November 8, 2018
Guendouzi almost in tears. Oxygen mask and a leg brace out for Welbeck by the looks of it. #AFC players clearly moved.

— Mark Mann-Bryans (@MarkyMBryans) November 8, 2018
Sad to see Welbeck suffer another injury set-back. Gets a big ovation as he is carried off with the crowd chanting his name. #ARSSPO

— Mattias Karén (@MattiasKaren) November 8, 2018
Sad to see Danny Welbeck carried off in distress to be replaced by Pierre-Emerick Aubameyang. Let's hope his injury isn't as serious as it looks. Such was his powerful display at the Estadio Jose Alvalade two weeks ago the Portuguese sportspages dubbed him the 'Welbeck Express'

— Layth (@laythy29) November 8, 2018
Just seen the picture. Suffice it to say – Danny won't be on the pitch again this season I'd wager.

— You Are My Arsenal (@YouAreMyArsenal) November 8, 2018
Danny Welbeck is stretchered off with his leg in a splint, needing oxygen 😢

— Daily Cannon (@DailyCannon) November 8, 2018
Regardless of what the result is, I think we can all agree that the main thing is that Welbeck returns to full fitness as soon as possible. Judging by the reactions of both himself and his teammates, it looked serious. Wishing you a speedy recovery, Danny! We're all behind you.

— Patrick Timmons (@PatrickTimmons1) November 8, 2018