Arsenal vs Sunderland: Preview, Injury News & Predicted Line-up
Arsenal host Sunderland tomorrow at the Emirates. This season's corresponding fixture saw the Gunners draw 1-1 with a 94th min equaliser from Darren Bent. If there's a cup final, then it is this one. This game is so crucial for Arsenal that if we stumble here, our title hopes shall be hit so badly that we may not recover. Orient was a warm-up match and we did out play them but this is the real test.
Injuries :
Neither RVP nor Theo will not take part against Sunderland. Both of them are on holiday along with Alex Song. Diaby however is back and so is Denilson. Wow! Kosher and Cesc may be rested. Welsh midfielder Aaron Ramsey should return.
Heres is the boss' update :
There is a chance Aaron could be available in the squad for Saturday. It will be very good to have him back. He is getting better and better now. We know he has a great engine, has great passing ability and can score goals as well.

We did not lose anyone last night. There is a meager chance we could have Koscielny back for Sunderland. But he is the only one we can hope to have available.

[Laurent] Koscielny has a good chance [for Barcelona] though. His hamstring is getting much better and he is not completely out for Sunderland yet. However Alex Song is out on Saturday and he is doubtful for Barcelona. At the moment he has not practiced at all. He has this knee problem that gets better everyday. But we'll assess it on Monday.

As for Cesc [Fabregas], we go day-by-day. We assessed him today and he is positive about his injury. We feel he has a chance. I do not want to disappoint people so I say he has 'a chance', I strongly believe that.
Probable-lineup :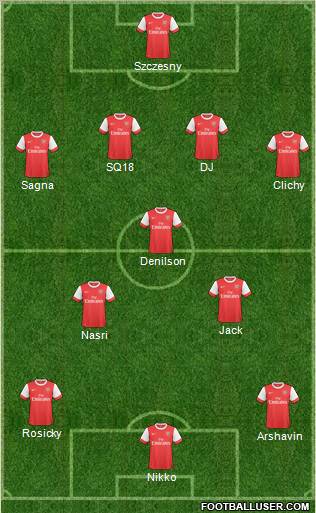 Subs : Almunia, Eboue, Ignasi, Gibbs, Diaby, Ramsey, Chamakh
Now the other solution is that instead of Rosicky Chamakh may start, but in that case Nasri cannot move to the left, because Chamakh cannot play as CAM.
Tactical Analysis:
Nasri should play CAM. The man is extremely talented, and along with Jack he can shine. Sometimes he may move to the right (not left !), but I feel he is underused there.
Now the thing is that 3 situations are possible :
Nasri plays on the right, with Rosicky and Jack playing in the centre.
Nasri plays in the centre with Rosicky shifting to the right. Jack stays centre.
Diaby comes in place of Rosicky, and plays alongside Jack. With Nasri moving to the right. Sometimes Diaby can switch to the wing, and we may play 4-4-2 just like united with Fletcher moving to the right.
If we don't get 3 points here, then whatever anyone says we have not matured. This is an opportunity after Chelsea did us a huge favour so lets take it.
Guns-out,
Submitted by THE ARMOURY
Other News
Arsenal are closing in on a £25m deal to sign Alvaro Morata from Atletico...

Chelsea are on the verge of signing Sevilla defender Jules Kounde, Spanish publication AS...