Arsenal vs Olympiakos: Preview, Injury News & Preferred Team
Olymipacos is a team which comes to London with alot of hope. Hoping that they can get away with more than just a point. Realistically it is obvious to assume that we are favourites for this tie. But as usual its Arsenal, so only time will tell… I did a short background check on our […]
Olymipakos are a team that come to London with alot of hope. Hoping that they can get away with more than just a point. Realistically it is obvious to assume that we are favourites for this tie. But as usual its Arsenal, anything can happen.
I did a short background check on our opponents and this is what I got. They won their 38th league title last year. They came 1st finishing 13 points ahead of Panathinaikos. Period.
I am aware of the North London Derby this sunday, and quite frankly, do prioritise that game as more important than this one. Hence, a comparatively younger side should suffice for Olympiacos in turn resting the big-guns for the Spuds.
Probable Line up: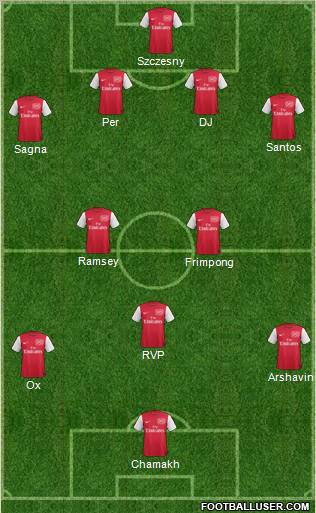 In the above line-up I am quite sure two things will change when Arsene names his lineup. One, Song will play instead of Frimpong and two, Ox will not start. Apart from these 2 many others things may also change, but I think these two are the most likely. If there is any late injury news I will change it accordingly. Rosicky may return but Yossi most likely will not play.
1st place early is a good thing, and we all know we want to get in to the knock-out phases of the champions league. Olympiacos will be a tricky side to beat, but 'beatable' none the less. A clean sheet will be very helpful for us so for me that should be high on the priority list, along with the 3 points.
Other News
Arsenal consider William Saliba as 'an important player' and want him to be part...

Arsenal manager Mikel Arteta has identified RC Lens midfielder Cheick Doucoure as a potential...