Arsenal vs Sunderland: Preview, Injury News & Predicted Team
First off, its going to be an interesting match because we face a team which has been as inconsistent as us in getting results. Nikko is not going to play, as he can't play against his parent club as part of the loan agreement. It's a bonus though, because if he scored against us, we as fans would never hear the end of it.
Kosher and DJ are back from injury and are in the squad. Since Sagna is out, so the RB slot is available. As far as I can see, we have Jenkinson, and Kosher (if Vermalen was fit). But since Vermaelen is out so it should be Jenkinson at RB, and Kosher in the middle.
Probable Line-up: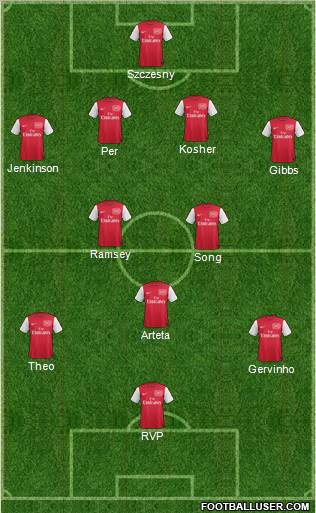 Arteta in my opinion has been disappointing so far in the Red & White of Arsenal. This is not JUST because of the Spurs game. I hope he shows us his old self otherwise I don"t know why we play him in this Arsenal team (not that we have any alternative). We all know he is not Cesc' replacement, but a little effort in terms of passing the ball FORWARD can be 'Demanded.' Theo and Gervinho were both poor in the last game, so lets hope they perform better at the Emirates this weekend.
Other News
Arsenal are closing in on a £25m deal to sign Alvaro Morata from Atletico...

Chelsea are on the verge of signing Sevilla defender Jules Kounde, Spanish publication AS...