Arsenal vs Borussia Dortmund: Preview & Predicted Line-up
Arsenal host Borussia Dortmund at the Emirates tomorrow in the Champions League, here is a match preview with predicted line-up.
Dortmund have recently beaten Bayern Munich 1-0. Since our last meeting they have grown, in a similar way to Arsenal. Why this match is so important is something that I cannot stress enough. For me, its a cup final, and if we do win this one we will qualify for the knockout stages of the Champions League. If we don't, pressure will be on us against Olympiacos, and we will be tired when we face Everton at the Emirates.
Gotze is already in the limelight with numerous newspapers reporting that he is our No.1 target in the winter transfer window. I have seen this guy play and to be honest, he is pretty good. He plays the Arsenal way and does not give up. Some people say he is even better than Ozil.
I know I have stated that this is a cup final match but I don't think we should start with Robin van Persie. The Premier League should still be the priority, so giving Robin a rest is required from time-to-time. As he did against Marseille, i feel the boss may leave our star man on the bench. As for the defense, a copy of the the Norwich game should suffice.
Probable Line-up: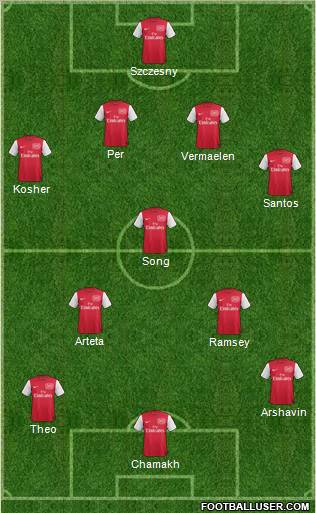 While some may say that we should give Park a start, I disagree. Park is not yet used to the intensity of the Champions League and this is a crucial game. A safe bet would be to bring him on later. I know I have included Arteta and Rambo in the starting line-up but I will not be surprised if Rosicky replaces one of them.
Will be happy to read your opinions…
Other News
Manchester United boss Erik ten Hag rejected the opportunity to sign midfielder Georginio Wijnaldum...

Chelsea are nearing a transfer agreement with Barcelona for midfielder Frenkie de Jong, according...