Can England Really Win The World Cup?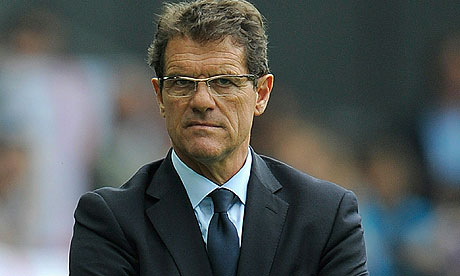 By Guest Writer Real Talk Football.
Now that the dust has settled on Tuesday's team selection, England fans can endlessly discuss the many options now available, the possible team selection, who should be number one goalkeeper, who can fill the right midfield slot and all other things that manager Fabio Capello has to consider before England's opening World Cup game against the USA on June 12th.
Looking at the team, it would seem to me, that Capello selected a 30 squad in which the seven players who were eventually dropped from the side, were those who if selected, would have been the surprise inclusions, rather than surprise exclusions. Any hint of a surprise was then removed from the equation; a collective unit has therefore been established, while the players previous experience of playing with each other in previous tournaments, a somewhat substantial factor in his selections.
By no means do I wish to convey this hint of negativity, or criticise English fans hopes of winning the World Cup, but isn't it slightly embarrassing that England are already considered amongst the favourites for the World Cup? Surely you have to reach the latter stages of major tournaments, every two years, in order to be considered amongst the favourites for the title, no matter how well the team has qualified?
I mean let's look at the tests England have face in the past 2 years, taking into account the subsequent "favourites" expected to challenge for the World Cup trophy:
26/03/2008 Friendly – France 1 – 0 England
19/11/2008 Friendly – Germany 1 – 2 England
11/02/2009 Friendly – Spain 2 – 0 England
12/08/2009 Friendly – Netherlands 2 – 2 England
14/11/2009 Friendly – Brazil 1 – 0 England
Although friendly's used to be deemed as "practice" or "experiments", under Capello it's evidently clear that friendly's are just as important as qualifiers, and the above is proof that against some of the major sides in the World, England just do not cut it.
Therefore teams such as Germany, France, Brazil and Italy should be considered as the favourites for these tournaments. Why you ask? Because they have the big tournament pedigree, and are renowned for delivering what is expected of them. To prove this, we can compare the five team's performances over previous tournaments to give an understanding why.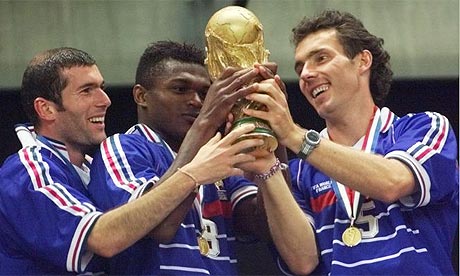 Let's look at the last eight major competitions including European Championships (obviously excluding Brazil) and at the World Cup.
1994 – World Cup 94 USA
Brazil: Winners
Italy: Runners-up
Germany: Quarter Final
England: Did not qualify
France: Did not qualify
1996 – Euro 96 England
Germany: Winners
England: Semi-finals
France: Semi-finals
Italy: Group stage
1998 – World Cup 98 France
France: Winners
Brazil: Runners-up
Italy: Quarter-finals
Germany: Quarter-finals
England: Round of 16/Second round
2000 – Euro 2000 Belgium/Netherlands
France: Winners
Italy: Runners-up
England: Group Stage
Germany: Group stage
2002 – World Cup 2002 Korea/Japan
Brazil: Winners
Germany: Runners-up
England: Quarter-finals
Italy: Round of 16/Second round
France: Group stage
2004 – Euro 2004 Portugal
England: Quarter-finals
France: Quarter-finals
Germany: Group stage
Italy: Group stage
2006 – World Cup 2006 Germany
Italy: Winners
Brazil: Runners-up
Germany: Third Place
England: Quarter-finals
France: Runners-up
2008 – Euro 2008 Austria/Switzerland
Germany: Runners-up
Italy: Quarter-finals
France: Group Stage
England: Did not qualify
This recent history shows that Germany, Brazil and Italy are the clear powerhouses of World football, continuously getting to the latter stages of competitions and ultimately competing for the title. England however tend be there in the mix, but are unable to cause a real stir in any of the major competitions. Why is this? Is it the lack of discipline amongst the players from the coaches? i.e.; Glenn Hoddle, Graeme Taylor. Maybe it's the lack of penalty takers, i.e.; David Batty, Gareth Southgate, Jamie Carragher and so on. Or maybe it's just that the England side were just not good enough; consider a Portugal teams boasting the likes of Luis Figo, Joao Pinto and Rui Costa, Argentina and players such as Hernan Crespo and Gabriel Batistuta or even that Brazil team spearheaded by the "Three R's" Ronaldo, Ronaldinho and Rivaldo, teams subsequently just being better then England.
Now for the Three Lions to truly live up the hype and consequently achieve what so many expect of them, a few things need to be considered. Firstly this moniker that it's England's golden generation, and that they are due a title needs to exacerbated, something Capello has already done.
Secondly; the unbelievable reliability on Manchester United striker Wayne Rooney is an absolute joke. When Rooney injured his ankle against Bayern Munich, the whole of Britain was locked onto Sky Sports News, believing that without Rooney in the starting eleven, they have absolutely no chance of beating any side in the World. Yes Rooney is an excellent player and one of the best in the World, by the way he is overhyped by the English media, and it would assume that he can carry his team to glory, just as Maradona did with Argentina or Roberto Baggio did with Italy in 1994. The English fans need to realise that although Rooney is a potential match winner, the likes of Steven Gerrard, Frank Lampard; who has been sensational for Chelsea this season, Ashley Cole and even Gareth Barry, are all vital components to England having a chance of winning, as no single man can win his team the World Cup.
Finally, this pathetic talk of the weather being "beneficial" due to its similarities to that in Great Britain are just some of the farcical reason touted as one of the reasons England can win.
So can England really be victorious?
If we analyse Capello's England, we can see what attributes England have which will ultimately determine how far they can go in this campaign.
Qualifying campaign
If we look at England's qualifying campaign, it really made the World sit up and take note that the side now playing under Capello, are a serious team, with a new found discipline and winning mentality instilled into the sides play. England qualified top of their group, with just one defeat, but most impressively they lay to rest the ghosts of Croatia a few years earlier (with relative ease in doing so), topping the group and scoring 34 goals and only conceding just 6 goals in the process.
World Cup 2010 Squad
As stated earlier, the squad has no real surprises, only the absence of the inconsistent Theo Walcott  of Arsenal and the inclusion of Wayne Bridge's replacement Stephen Warnock the talking issues. The benefit and real strength of this squad is undoubtedly its experience and familiarity between its members. Players such as Shaun Wright-Phillips and Joe Cole's places were up for grabs, however they have been in and around the England team for the last five years, and their inclusions highlighted Fabio Capello's theory of selecting tried and tested internationals.
David James and Robert Green will be battling for the number one jersey, while Joe Hart will subsequently be the third choice keeper. This is probably the most clear and concise area in which England can be sure of an array of talent and options.
The return of the versatile Liverpool defender Jamie Carragher, who was persuaded to come out of international retirement, is another wise head in the squad. The inclusion of Ledley King, whose resurgence and return from injury is like having a brand new player. He had an excellent last few months in a Tottenham shirt, subsequently helping them achieve Champions League football for the first time in their history, while proving his fitness to Capello, allowing for one of the best defenders in England being able to make the trip to South Africa, and offering an adequate deputy to the first choice centre backs.
With the breaking and somewhat demoralising news that newly appointed captain Rio Ferdinand picked up a knee injury which has ruled him out of the World Cup, Tottenham Hotspur's Michael Dawson now has the chance to step up onto the big stage, become a valuable member of the squad, and finally stepping up into the first team and carrying his fine club form onto the pitch if need be.
For more players worthy of implementing the winning mentality into the squad, look no further than the likes of Ashley Cole, Joe Cole, Frank Lampard and John Terry; whose experience and performances helped Chelsea FC win the domestic league and cup double. This good form is being carried on that plane to South Africa, and they will be natural born leaders both on and off the pitch, while holding the squad together, when the challenge gets tougher and tougher.
With the striking options for England, it's well documented the importance of Manchester United 24 year old Wayne Rooney, and should he continue his excellent club form, which saw him score 34 goals in all competitions, into South Africa will sufficiently improve England's chances. Also Peter Crouch cannot be discounted, neither can his goals scoring record, with 21 goals in 38 games, he definitely has a case for claiming that role of Rooney's strike partner. Although the highly favoured Emile Heskey, who was selected ahead of Sunderland's Darren Bent (who scored 25 goals last season, making him the second best English striker the Premiership), while the added option of the tricky and boisterous Jermaine Defoe, is another option from the bench, who can always grab a goal when needed. It would seem England have a good batch of attackers, which could cause defences many difficulties.
Experience
Something which arose to me quite recently, is that the current players flying out to South Africa; are England's most mature squad ever being taking to a World Cup. According to Sky Sports, we can look at the two previous England squads who have gone the furthest in the competition.
1966 England Squad – Average Age: 26.5 years, Average Caps: 23 caps – Final Result: Winners
1990 England Squad – Average Age: 27.8 years, Average Caps: 32.2 caps – Final Result: Semi Final
2010 England Squad – Average Age: 28.7 years, Average Caps: 39.1 caps – Final Result: ???
As you can see, the current squad has the highest average age, as well as the highest average of caps amongst the squad, compared to the most successful England teams in history. Ultimately, these experienced players, are ultimately the reasons behind Capello's decision to pick players such as; Joe Cole, Shaun Wright-Phillips and Emile Heskey ahead of players such as Adam Johnson, Scott Parker and even the surprise exclusion Theo Walcott. It's this experience and big game know how, which have somewhat instilled the required discipline and winning mentality amongst the squad, something that again will be vital for progression through this tournament.
Also we can compare England's stats compared to the averages of the other two favourites in the tournament; Spain and Brazil.
2010 Spain Squad – Average Age: 29.11 years, Average Caps: 36.8 caps
2010 Brazil Squad – Average Age: 29.7 years, Average Caps: 37.2 caps
2010 England Squad – Average Age: 28.7 years, Average Caps: 39.1 caps
England are heading into this tournament with a greater average age, as well as the most caps average, in this year's tournament.
Chances?
England go into this tournament amongst the favourites, while there is of course a very good chance of Fabio Capello's men being able to win the trophy, however it will be down to the Italian's ability to instil this winning mentality displayed in qualifying and onto the grandest stage. The experience amongst the squad, as well as the talismanic Wayne Rooney, there is no reason why England can't go all the way, however safer bets would be on a Quarter-final finish.
Let me know what you think? Do you think England can all the way? Who do you think will win the World Cup? Remember head to Real Talk Football Blog, for more on the World Cup and for you to place your vote.
Other News
Mikel Arteta has confirmed a fitness blow but three other players are back in...

Current Premier League champions Manchester City are interested in bringing Arsenal's star left-back Kieran...