Where Would Arsenal's 'Injured Team' Finish In The Premier League?
Arsenal were missing twelve players for the 3-2 defeat to Swansea on Sunday through injury, I look at how strong a team we can make using those missing men.
With the wounds of another Premier League defeat still fresh, Arsenal fans continue to debate just what went wrong against Swansea on Sunday.
Many have been venting their anger at the board for not spending on new recruits, some targeting individual players with Ramsey, Walcott, Djourou and Arshavin feeling the brunt of the criticism, but the majority of fans have been laying the blame firmly at the doorstep of Arsene Wenger.
As manager, Wenger is the obvious choice. The buck stops with him after all. However, spare a thought for those players the boss has been unable to call upon for much of the season. In fact on Sunday, Arsene was without the services of a staggering 12 players. 6 of which are regarded as first choice regulars.
Any team would miss Sagna, Vermaelen, Gibbs/Santos, Arteta, Wilshere and Gervinho. As well as the numerous back up players who were missing.
The full list of players unavailable was the following ten players through injury; Fabianski, Wilshere, Arteta, Vermaelen, Santos, Gibbs, Sagna, Coquelin, Jenkinson and Diaby. With two away on international duty; Gervinho and Chamakh.
Many Arsenal fans were talking about the starting eleven you could make from the players absent on Sunday. An odd coincidence, but you can in fact make a decent looking side. Here's my 'Injured Team':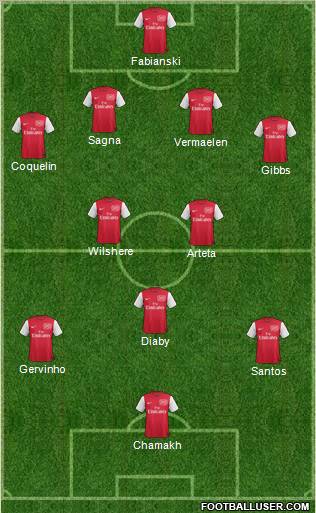 It's not a bad side. Of course Fabianski is a dodgy keeper and would be regarded as a weak link in the side. The centre of defence is solid with Vermaelen playing alongside Sagna who despite being predominantly a right back, can play in the middle and has done so for France in the past. Youth and energy is provided in the full back areas through Gibbs and Coquelin. I chose Coquelin ahead of Jenkinson as i believe he's got the potential to be a star for the Gunners.
The midfield looks the strongest area for Arsenal with Wilshere and Arteta playing together. Gervinho on the right with Diaby in the advanced midfield role and Brazilian Santos in the more advanced left wing position. The weakest area is probably the striker, Chamakh.
Goals may be hard to come by for this team with the erratic Gervinho supporting the useless Chamakh, although Santos has already proven he has a tidy finish on him and he is Brazilian after all, so he could bag a few goals for us. Diaby is an enigma, looking like a world beater one minute then a pub player the next.
But overall, a competitive looking team. So despite the many factors that have resulted in a poor season for the Gunners. Lets not forget the difficult injuries Arsene Wenger has had to deal with. Mancini has spent a fortune and is complaining when City are without a handful of players saying his squad is too small. Try standing in Arsene Wenger's shoes for one day Roberto!!
But my question is; where do you think the 'Injured Team' would finish in the Premier League? Top 10 perhaps? Would it get relegated? I think we'd be battling it out with the likes of West Brom, Wolves, QPR and Villa eventually finishing in 12th place.
Leave your opinions in the comments section below… 
Other News
Manchester United are leading the way to sign Napoli striker Victor Osimhen this summer,...

Arsenal have made an enquiry to sign Barcelona forward Memphis Depay ahead of the...