A Gooners Preview: Man Utd vs Arsenal – True Test Of Mettle For Arsenal
Arsenal travel to Old Trafford on Saturday lunchtime for this weekend's big game. Here's a preview from Football-Talk's newest Gooner contributor Jacob Windon.
Arsenal travel to Old Trafford on Saturday lunchtime for this weekend's big game. Here's a preview written by Football-Talk's newest Gooner contributor – Jacob Windon.
Arsenal head to Old Trafford to face Robin Van Persie's Manchester United on Saturday, and it's fairly safe to say that Arsenal fans should be concerned. It comes as no surprise that all the talk in the build-up to this exciting game between two of heavyweights of English football, and yes, Arsenal are still considered a 'heavyweight', has been about the 8-2 mauling in the corresponding fixture last year.
In addition to this I heard that both teams featured in high scoring Capital One Cup games earlier this week, and this will also no doubt be mentioned at some stage during the pre-match hype. Arsenal go into this clash baring the scars of the 8-2, scars that have still not been fully remedied. It would be more appropriate to describe these scars as wounds. These wounds have never fully healed, as is the nature of such a monumental hiding as the one we were delivered over a year ago. These wounds were exposed again for all to see against Reading last Tuesday.
Coincidentally, for the last two seasons I've been hearing Arsenal described as resilient, and battle hardened. These qualities are not usually associated with the Gunners under Wenger. Prior to the 2011/2012 season, Arsenal were described as a 'frail side', a side that repeatedly suffered from picture-esque defeats, making the same mistakes and suffering the same failings over and over again. Both of these descriptions are slightly clichéd, but as is with some cliche's, there are usually elements of truth tied into all the regurgitated nonsense. Against Manchester United on Saturday, Arsenal have the ultimate chance to put the horror story of last year to rest, and to give us a far more accurate indication of what kind of side we really are.
As I said, Arsenal have reasons to be worried heading in to this fixture. Given the context of the Reading win, taking negatives (and my god we are spoilt for choice) has been hard to do. My worry is that the incredible result will neglect the aspects of reoccurring frailty and defensive incompetence that must be ironed out of our system for Arsenal to be considered a genuine title threat. Should we perform anything like we did in the first half against Reading, against Manchester United, we should prepare ourselves for a scoreline that super-cedes 8-2.
If there's anything Arsenal can learn from Tottenham, (and lets face it, there's only one thing), it's to release a DVD after a win of any kind of significance for the purpose of draining more money out of the nearly diminished pockets of our fanbase. I'm only kidding, and yes I am about to give Spurs credit, sorry guys. Tottenham highlighted earlier in the season that the only way to get a result at Old Trafford is to attack them, to come firing out of the blocks and make an early statement of attacking intent. Remember when Arsenal did that to United a couple of years ago? It was back when Andrey Arshavin looked like a footballer, the day Abou Diaby scored the most comical of own goals to gift United a 2-1 victory they barely deserved. For anyone who forgot, Manuel Almunia also gave away a penalty, which was scored by Wayne Rooney.
Arsenal have the attacking threat to get a result at Old Trafford, despite recent troubles to find the back of the net (Reading aside). It will be interesting to see whether Jack Wilshere will start the game, but more interesting is the way we could potentially see ourselves line up. Below is my favoured XII: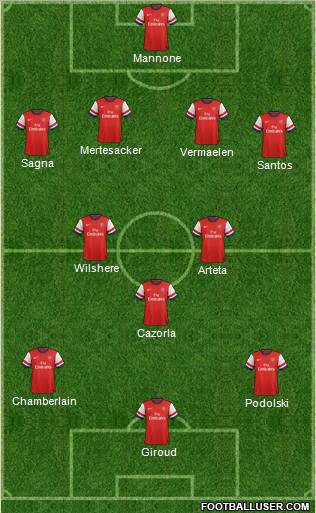 In recent weeks we have seen Arsene Wenger experiment in a slight variation of a 4-4-2/ 4-3-3, with Aaron Ramsey and Santi Cazorla shifted into wide roles against QPR. I assumed that the return of Bacary Sagna influenced Wenger's decision to play Ramsey wide right, giving Sagna more room to overlap, with Ramsey drifting infield, a position we're now quite accustomed to seeing him play, but a position that ultimately limits our main attacking weapon in Santi Cazorla. The way we are set up to play since the injury to Diaby, gives us more technical balance, and lessens the chance of us losing possession (which makes sense given we were playing low on confidence for three consecutive games).
On Saturday, I would prefer to see us go back to the system we played away at Liverpool, with Wilshere doing his best Diaby impersonation, something that he is more than capable of doing (and more). I feel that in the last three games our slight tactical switch has lessened the opportunity for Cazorla to run the show. He needs to be on the ball as much as possible for us to get a result against the former Premier League champions. The freedom that he was given playing just behind the striker, in the early parts of the season was on the main factors in why we looked so fluent as a cohesive attacking unit. Teams have quickly realised his importance to Arsenal, and we should learn to be less reliant on the Spaniard, but at the same time, he needs to be on the ball for things to tick. Very similar to the days of Arsenal and Fabregas, but now's not the time for comparing similarities between excellent Spanish footballers. Perhaps next week.
After the non-existent defending against Reading, our back four picks itself for this fixture, and hopefully they remember quicker than Jenkinson, Koscielny, Djourou and Miquel, that they are actually professional footballers. Other than that, Giroud gets the nod over Chamakh (the fact that we only have 2 recognised strikers in the squad at the moment speaks for itself), and he showed when he came on at the Madejski what he offers to our side.
It's a big game for Lukas Podolski, after four consecutive games he's gone missing, in all areas of the pitch. Podolski cannot simply neglect his defensive duties against Manchester United, because just behind him lurks the enigmatic, cuddly, and questionable defender that is Andre Santos. But more so we need him to show why I consider him to be in the class above. I'm not necessarily putting him up into the world-class bracket – he's already illustrated his frustrating inconsistencies that have hampered him during his career at Bayern. However, there is so much onus on Podolski to share the goal-scoring load this season, and he started well, but has run into a bit of a dry patch. Having said that all players will lose a bit of their edge and I have no worry that Podolski will prove his quality in the coming matches. Old Trafford would be an ideal place to start.
Manchester United have had an indifferent start to the season by their high standards, and there are so many similarities between them and Arsenal that make this match truly unique occasion. United have goals in them, but have been awful at the back, and I think that their lack of a deep lying defensive midfielder could be an area ripe for exploitation. However Manchester United are notorious for their lightning counter attacks and this has been proven specially effective against Arsenal in the past. This is why there is so much responsibility on the Ox and Podolski to run themselves ragged to help out our fullbacks, who may well have their hands full. Interestingly enough, Arsenal have looked superb in this area as well, leading me to believe that whilst both defensives have huge exclamation marks hovering above them, this game could well prove to be a war of attrition.
And now, the bit you've all been waiting for. The part where I talk about Robin van Persie. There's been somewhat of a role reversal, van Persie becoming just as important to United as he was to us. We know what a world class player he is, and we know how utterly destructive he could prove to be against us, there is not much point in me drooling over RVP like every football pundit in the country. The dust has already been settled on his United move so there's no point in me whinging and cursing. But I will say this: I am not one who has ever wished any physical harm on any player, but I genuinely hope he's on the end of a Verminator special.
I'm not a huge fan of score predictions, but the possibility of a high scoring draw/ United win seems incredibly likely. I don't in any way condone gambling but I am personally going down to my local TAB later tonight to place my mortgage on a van Persie brace, and if you're a betting man of similar incompetence I suggest you do the same.
As I said earlier, Arsenal are walking wounded going into this fixture, not brimming with confidence as popular belief suggests. We will learn much about our team's title/top four/ mid table credentials after the game, and there's an air of familiarity going into this one that makes you worry. Which Arsenal are we going to see? Frail, weak, vulnerable Arsenal, or the 'new and improved', resilient Arsenal, brimming with confidence? I doubt the latter, but we did just witness one of the most thrilling comebacks in the history of the English game. It's a funny old game and anything can happen.
Right, I'll be back for a full in-depth analysis and comprehensive review of the game, most likely on Sunday. Until then. Come on you Arsenal.
In the unlikely event that you enjoy reading me babble on and on about Arsenal and football and stuff, leave a comment below. Feel free to disagree with me on anything – that's fine, however it would be most appreciated if you could refrain from using any abusive language.
Fancy a flutter on the game? Claim your £10 welcome bonus at Sky Bet and enjoy some of the best match odds in the business.
Other News
Manchester United are leading the way to sign Napoli striker Victor Osimhen this summer,...

Arsenal have made an enquiry to sign Barcelona forward Memphis Depay ahead of the...