How Arsenal Could Line-up Next Season With 3 Key Signings
With Arsenal heavily linked with a couple of big-money signings these past few days, we look at what the Arsenal starting eleven could look like next season.
With Arsenal heavily linked with a number of big-money signings these past few days, Gunner333 looks at what the Arsenal starting eleven could look like next season.
I have assessed some potential targets in recent weeks but have not spoken about the ones I can realistically see coming to the Emirates this summer. Here I look at what Arsenal's first 11 could be next campaign:
GK – Wojciech Szczesny – A top shot stopper with bags of quality and a lot of potential. To win trophies next season we need to be consistent and if we stick with our young gun between the sticks, that is a real possibility.
LB- Nacho Monreal- He is still adapting to life in North London after joining from Malaga as recently as January. But Nacho is showing signs of a top full-back and, for me, beats both Gibbs and Santos into the team any day.
CB – Laurent Koscielny – As long as the Frenchman does not depart to Turin this Summer we will have a World-class talent at the back. His natural ability, last-ditch challenges and great aerial ability make him a must-keep.
CB – Ashley Williams – The first signing in my line-up, Williams is chosen ahead of Merts and 'the Verminator' due to his incredible form last season. His heroic displays lead the Swans last season to cup success and an impressive 9th place finish.
RB – Carl Jenkinson – I am sure I will face my fair share of criticism for this decision, but hear me out. Carl is still reasonably young and already shows a far greater defensive mentality than Sagna and rarely delves forward like the unreliable Frenchman.
CDM – Marouane Fellaini – He would surely be one of our greatest signings ever if purchased and the Marouane rumour mill is continuously being fuelled by our need for a top holding player. Incredible flair, strength and consistency are just some traits the big Belgium possesses.
CM- Jack Wilshere – Our reliable young talent. Passes expertly, makes runs with passion and is just an all round footballing genious. He'll be vital for us next season.
CM- Santi Cazorla – The third part to our delightful midfield trio is the Spaniard who helped guide us to fourth spot last term. Without his skills and the odd important goal we would have struggled to even match Spurs.
LW- Alex Oxlade Chamberlain – Pace, pace and more pace. Very much like his English counterpart Walcott, Alex has the ability to burst down the wing with incredible speed and he was showing signs off adding that all-important end product to his game last season. He has a lot of potential and is a vital component to our improving attacking force. A big season ahead for the youngster.
ST- Gonzalo Higuain- The final signing in my magnificent eleven. Gonzalo is just what we require – a quality front-man. He can score goals frequently and allayed at the very top level with Madrid for many years. Let us hope Mr Wenger uses a big chunk of his finance on this young man.
RW- Theo Walcott- Although he may prefer to play centrally, Walcott has the ability to play anywhere in the front line and can score goals in most positions. His firepower in front of goal will be vital next year as well.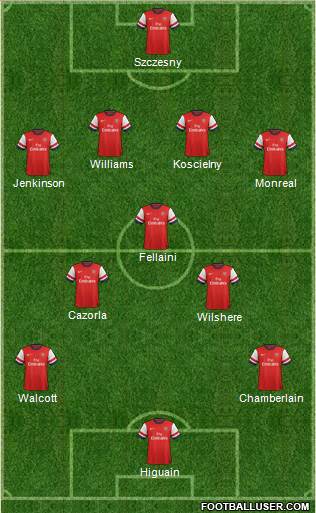 So that's how Arsenal could line-up next season if we manage to sign Ashley Williams, Marouane Fellaini and Gonzalo Higuain. Thanks for reading and feel free to comment below!
Other News
Liverpool are at St Mary's tonight knowing they need a win over Southampton to...

Manchester United are one of the best placed clubs to sign Benfica forward Darwin...