Arsenal Transfer Targets: Thoughts On Brazilian Wonderkid Bernard
As Arsenal fans continue to wait for the big-money signings they've been promised this summer, blogger Gooner Daily gives his thoughts on a target; Bernard.
As Arsenal fans continue to wait for the big-money signings they've been promised this summer, blogger Gooner Daily gives his thoughts on a reported target; Bernard.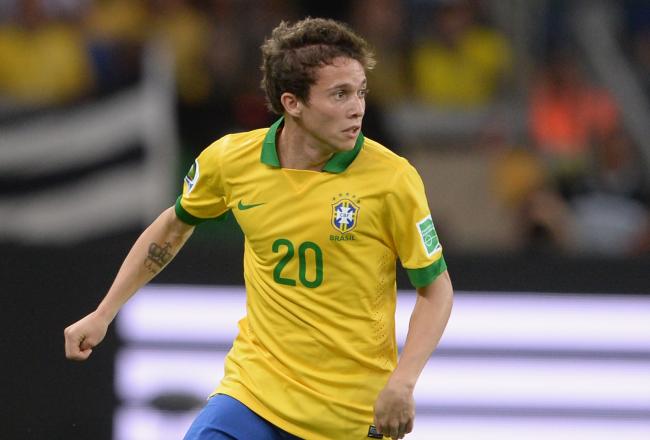 Ivan Gazidis had promised Arsenal fans at the start of the summer that there was enough money for the manager to spend to bring quality additions. It wasn't long before rumors of big names signings such as Gonzalo Higuain and Luis Suarez were linked with moves to the Emirates, while another exciting attacker in the form of Brazilian wonderkid Bernard has also been linked with a move to north London in recent weeks.
The youngster has been in Atletico Mineiro's ranks since 2006 but he was released twice because of his his height, as he stands at a tiny 5ft 4inches. Exclusive interview here (you may wanna translate though).
Injuries to playing personnel in his position paved the way for the young winger and after a loan move away at Democrata FC (where he scored 14 goals in 16 games), he made his debut in the 2011 Campeonato Brasileirão season notching up 28 appearances.
Last season, Bernard rose to prominence as he, alongside Manchester City reject, Jo, and Brazilian legend, Ronaldinho Gaucho helped Atletico Mineiro to a second place finish in the Brazilian league. Ronaldinho and Jo had 10 goals apiece while Bernard topped the goalscoring charts with 15 goals.
The diminutive Brazilian is renowned for his fleet-footed nature, flamboyancy, finishing, pace, agility, creativity, technique and dribbling skills as you would expect from a Brazilian winger. With reports claiming the winger was due to undergo a medical in London last Friday, manager Arsene Wenger was quick to play down the reports, although rumours persisted that our interest remained.
However, Atletico Mineiro president Alexandre Kali has confirmed today that they've accepted a bid from Shakhtar and Bernard must now decide whether to make the move to the Ukraine.
"Things are very advanced. The team is Shakhtar. They offered the value we want. If Bernard wants, he will go.

"If he does not want to go to Ukraine, that's no problem. It's in his hands. I have talked with him. It's a private matter. If he does not want to go, we will not force him." Kali is quoted as saying by the Express.
Right now, Arsenal are blessed with a vast array of versatile midfielders / attackers that can play on the flanks and if I have the choice to choose between any of these players and Beranrd, I'd go with the Gunner, probably with the exception of Gervinho who's closing in on a move to join his former boss, Rudi Garcia, at Roma.
As good as Bernard is, he's no where near Santi Cazorla or even Theo Walcott in class. Alex Oxlade-Chamberlain is a young player that has his best years ahead of him, Arsene Wenger has high hopes for Serge Gnabry and Ryo Miyaichi then of course there is also Lukas Podolski, so I think we're well stocked for players like him already.
We have other areas of the squad that need addressing for more urgently, so I wont be disappointed if we end up missing out.
What do you think; would Bernard be a good addition? Or do we already have enough like him? Share your views below.
This post was originally published on Gooner Daily – you can check out their Facebook page here.
Other News
Chelsea manager Thomas Tuchel wants to solve the club's goalscoring problems by signing two...

Manchester United have been handed a blow in the pursuit of Benfica striker Darwin...