Arsenal Fans Troll Spurs #AdeSalute Twitter Request: See The Best Tweets Here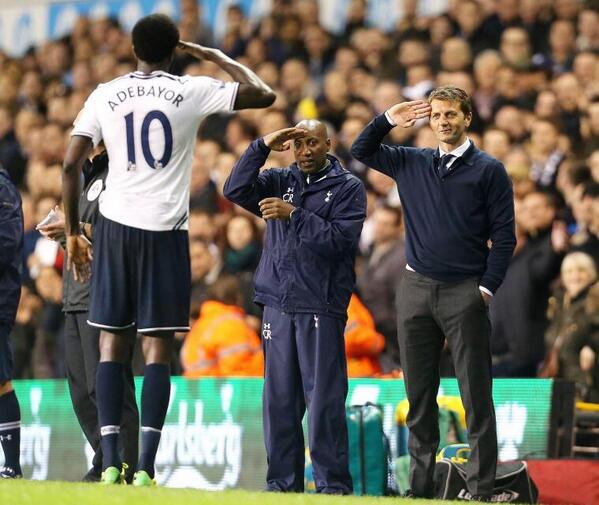 Arsenal fans hijacked Tottenham's twitter request for fans to send in pictures of themselves doing their best rendition of Emmanuel Adebayor's salute celebration on Thursday afternoon.
Adebayor has been in excellent form for Spurs since working his way back into the side under boss Tim Sherwood last December. The Togolese hitman scored his 13th goal of the season during a 5-1 win over Sunderland on Monday night and celebrated with his now infamous 'salute' celebration in front of the Spurs coach.
Tottenham's official Twitter account decided to make a light-hearted request this afternoon for fans to send in pictures of them saluting Adebayor back, using the hashtag #AdeSalute.
However, rival fans from Arsenal hijacked the request by sending in pictures of there own, trolling their former striker in the process. Judging by some of the tweets I've read, even Spurs fans were embarrassed by the clubs attempts to engage with supporters on Twitter with many pleading with the club to 'make it stop!'.
Needless to say, it wasn't long before #AdeSalute was trending in the UK. Here are some of the best 'family-friendly' replies we have found:
First Ade. Now you! Tweet us a pic of you saluting Ade back using #AdeSalute – we'll RT some of the best and pick one to win a signed prize!

— Tottenham Hotspur (@SpursOfficial) April 10, 2014
Sherwood doing his #AdeSalute pic.twitter.com/uWIfCd7IMD

— Bradley Murray (@Bradders_76) April 10, 2014
How about this one? (5-2) #AdeSalute pic.twitter.com/4aA75ai9F1

— David S Mack (@DboyMack) April 10, 2014
.@SpursOfficial @E_Adebayor #AdeSalute pic.twitter.com/Ny0dHfNgso

— Bootifulgame (@bootifulgame) April 10, 2014
#AdeSalute pic.twitter.com/GmueKhmQPZ

— Darren Berry AFC ❌ (@DBerry1974) April 10, 2014
#AdeSalute pic.twitter.com/BKcCDIR3Fq

— Darren Berry AFC ❌ (@DBerry1974) April 10, 2014
#AdeSalute pic.twitter.com/0FNE37o41D

— Popsie (@Popsie73) April 10, 2014
#AdeSalute #FOYS pic.twitter.com/Co6sqxecXs

— John (@John_AFC_Gooner) April 10, 2014