Hodgson's World Cup XI: Wilshere Starts Over Liverpool Ace With Rooney In The Hole
Roy Hodgson announced his 23-man England squad for this summers World Cup earlier this week so I decided to come up with what my starting line-up will look like
Roy Hodgson announced his 23-man England squad for this summers World Cup earlier this week so I decided to come up with what my starting line-up will look like this summer in Brazil.
There were few surprises in the squad other than the omissions of Ashley Cole and Michael Carrick, with Hodgson bravely deciding to opt for youth by selecting Luke Shaw and Ross Barkley over the veteran pair.
With Cole not in the picture Leighton Baines is almost certain to start at left back and the rest of the back five is pretty-much guaranteed as well. Manchester City's Joe Hart will start in goal and Chelsea's Gary Cahill is also a cert to start after an excellent season at Stamford Bridge, and his likely partner will be Everton's Phil Jagielka as long as he can prove his fitness in time. If he fails to make it, Manchester United duo Chris Smalling and Phil Jones will be on standby.
Midfield is a contentious area as Liverpool fans will be hoping to see Jordan Henderson start alongside club-mate Steven Gerrard after a fine season at Anfield. However, I'd go for Arsenal's Jack Wilshere as long as he can prove his fitness in time. I'm a huge fan of Wilshere and he certainly brings something different to the team, but much will depend on Hodgson's mindset. If he wants to go a little more defensively, then Henderson will likely start, but if he wants to have a go, then it will be Wilshere.
How the attacking quartet will line-up remains to be seen but I hope to see a more adventurous formation than we've been used to seeing in recent tournaments. No disrespect, but let's hope we see less of James Milner and Danny Welbeck and more of Raheem Sterling and Adam Lallana, as the duo have enjoyed excellent seasons with their clubs. I can see Sterling being a certain starter, but whether Hodgson has the balls to start Lallana as well is less clear.
The front two are almost certainly going to be Wayne Rooney and Daniel Sturridge. Personally, I'd go with Rooney just playing off the Liverpool man in the 'hole', but they can interchange at times as both are capable of playing in either position.
So here's my team: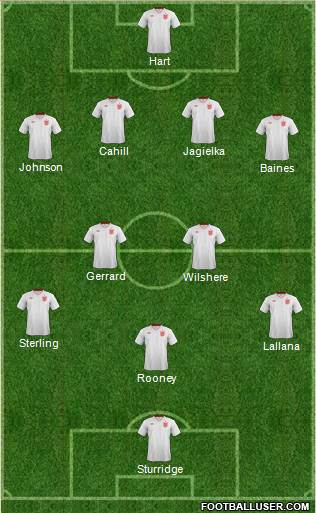 It's certainly an attacking team and in reality Hodgson is probably going to be far more conservative, but nobody is giving us a hope in Brazil so why not go down fighting?!
Predicting the starting line-up is tricky, especially before we've seen any of the warm-up games as we should get a better idea of Hodgson's plans once we've played the likes of Peru, Ecuador and Honduras. If I was a betting man, I'd probably say that Wilshere won't start in the opening fixture against Italy. Firstly, he's not 100% match fit yet and secondly, Hodgson is probably going to play defensively to ensure we don't lose our first match.
However, I hope the manager has a go in the other two games against Uruguay and Costa Rica. Getting out the group is going to be a difficult task – the bookies have England as odds-on to finish third for a reason – but in Sterling and Lallana we have two in-form, confident youngsters who could surprise a few people, so let's utilise them.
I'll be posting regularly throughout the summer with World Cup tips and stats, video highlights and injury news so be sure to keep your eye out. It's promising to be an exciting few weeks ahead and even if England do crash out at the group stages, we're in for a great spectacle over in Brazil.
Although I'd have taken Ashley Cole, I think Hodgson has been brave to pick a youthful squad but I just hope he now follows through and gives them a chance to shine on the big stage.
Other News
Chelsea can cement their place in the top four with a win when they...

Chelsea take on Everton at Stamford Bridge tonight. Here is the team we expect...