[Photo] Suarez Poses In Barca Shirt & Thanks Liverpool Fans After Move Is Confirmed
Liverpool and Barcelona have confirmed a deal has been reached for the transfer of striker Luis Suarez this summer. See him in his new Barca shirt here.
The summer transfer window is now open for business and it's expected to be a busy few weeks as managers strengthen their squads ahead of next season, so we'll bring you all the latest news and gossip. Today, Liverpool have agreed to sell Luis Suarez.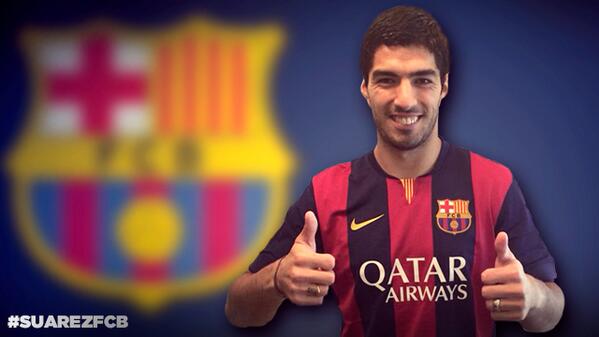 Liverpool and Barcelona have confirmed a deal has been reached for the transfer of striker Luis Suarez this summer.
The Uruguayan has been hotly tipped to make the move to the Nou Camp this summer and after weeks of speculation, the two clubs have finally announced the deal on Friday afternoon.
A statement on Liverpoolfc.com read:
Liverpool FC confirms that Luis Suarez will be leaving the club after a transfer agreement was reached with FC Barcelona. The player now has permission to complete the usual formalities, which will then conclude the transfer.
Neither club has confirmed the official fee as yet, but the Guardian seem to think the deal will be worth in the region of £75m with Suarez signing a five-year deal at Barcelona.
The 27-year-old has just come off the back of a sensational season that saw him finish with the golden boot after netting 31 goals to take Liverpool to within touching distance of the Premier League title.
However, his controversial side reared its ugly head once again at the World Cup as he bit Italy's Giorgio Chiellini during a group game, and his latest act of cannibalism saw his slapped with a four month ban from all footballing activity by FIFA last month.
For many fans this was the final straw but Barcelona weren't to be put off by the prospect of Suarez missing the start of the new season and they've completed the signing today ahead of a medical and presentation next week.
Suarez  has been at Anfield for three-and-a-half years following his move from Ajax in January 2011 and the striker has expressed his love for Liverpool and it's fans in a statement today.
Suarez told the Liverpool website:
"It is with a heavy heart that I leave Liverpool for a new life and new challenges in Spain. Both me and my family have fallen in love with this club and with the city.

"But most of all I have fallen in love with the incredible fans. You have always supported me and we, as a family, will never forget it, we will always be Liverpool supporters.

"I hope you can all understand why I have made this decision. This club did all they could to get me to stay, but playing and living in Spain, where my wife's family live, is a lifelong dream and ambition. I believe now the timing is right.

"I wish Brendan Rodgers and the team well for the future. The club is in great hands and I'm sure will be successful again next season.

"I am very proud I have played my part in helping to return Liverpool to the elite of the Premier League and in particular back into the Champions League.

"Thank you again for some great moments and memories. You'll Never Walk Alone."
Liverpool fans will be split on whether they are glad to see the back of the player. No doubt he's one of the best players on the planet and his talent will be hugely missed, but he's also brought a lot of unnecessary bad-press to the clubs door-step and is clearly a troubled man.
However, whatever your feelings are about Suarez, if he can keep himself out of trouble he's going to form a devastating attack alongside Lionel Messi and Neymar, but if he continues to find himself in hot water, at least he'll be Barcelona's problem now.
Other News
Arsenal consider William Saliba as 'an important player' and want him to be part...

Arsenal manager Mikel Arteta has identified RC Lens midfielder Cheick Doucoure as a potential...