Man Utd Confirm 25-Man Squad To The Premier League: See Who Made The Cut Here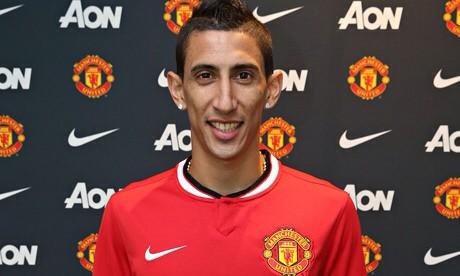 Manchester United have officially submitted their 25-man squad to the Premier League for the 2014/15 campaign. You can see who made the cut and who was included in the Under-21 squad here.
All clubs had to confirm their squads to the Premier League after the summer transfer period had closed, however, teams are still allowed to register any player who is out of contract that Louis van Gaal may decide to sign.
The current rules state that clubs can not have more than 17 players who are not considered as 'Home Grown' in their squads – which can not exceed the 25-man limit. However, a manager can name as many Under-21's as they like over and above the 25-man limit.
A 'Home Grown' player is defined as someone who has been registered with any club tied to the FA for at least three whole seasons or 36 months prior to their 21st birthday, and squads are now final until the transfer window reopens in January 2015.
Louis van Gaal has been extremely busy during the summer completely re-shaping the squad he was left behind by former boss David Moyes. The Dutchman spent over £150m bringing in six big-money signings so Radamel Falcao, Angel Di Maria, Ander Herrera, Daley Blind and Marcos Rojo all added to their 25-man squad, while Luke Shaw qualifies to be included in the Under-21's.
A number of players have also left Old Trafford over the past few weeks with the likes of Danny Welbeck, Javier Hernandez, Patrice Evra, Rio Ferdinand and Nemanja Vidic all departing. However, out-of-favour midfielder Anderson is still on the books and included in the 25-man squad submitted to the Premier League.
Here is a full list of those players eligible to play for United over the next few months:
25-man squad list (Home Grown *)
Amos, Benjamin Paul
Blind, Daley
*Carrick, Michael
De Abreu Oliveira, Anderson Luis
De Gea Quintana, David
Di Maria, Angel Fabian
*Evans, Jonathan Grant
Fellaini-Bakkioui, Marouane
*Fletcher, Darren Barr
Garcia Zarate, Radamel Falcao
Herrera Aguera, Ander
*Jones, Philip Anthony
Lindegaard, Anders Rozenkrantz
*Lingard, Jesse Ellis
Mata Garcia, Juan Manuel
*Pereira da Silva, Rafael
*Petrucci, Davide
Rojo, Faustino Marcos Alberto
*Rooney, Wayne Mark
*Smalling, Christopher
Valencia Mosquera, Luis Antonio
Van Persie, Robin
*Vermijl, Marnick Danny
*Young, Ashley Simon
Under-21s list (Contract and Scholars)
Blackett, Tyler Nathan
Borthwick-Jackson, Cameron Jake
Byrne, Oliver Joseph
Castro Pereira, Joel Dinis
Croskery, Ruairi
Dorrington, George Edward
Dunne, James Gerard
Evans, Callum Leeroy
Fletcher, Ashley Michael
Goss, Sean Richard
Grimshaw, Liam David
Harrop, Josh
Henderson, Dean Bradley
Henriquez Iturra, Angelo Jose
Hoelgebaum Pereira, Andreas Hugo
James, Reece
Janko, Saidy
Januzaj, Adnan
Johnson, Travis Conroy
Johnstone, Samuel Luke
Keane, Michael Vincent
Keane, William David
Love, Donald Alistair
McConnell, Ryan Peter
McNair, Patrick James Coleman
Mctominay, Scott
Mitchell, Demetri Karim
O'Hara, Kieran Michael
Pearson, Benjamin David
Poole, Regan Leslie
Powell, Nicholas Edward
Rashford, Marcus
Redmond, Devonte Vincent
Reid, Tyler
Riley, Joe
Rothwell, Joseph Matthew
Scott, Charlie Thomas
Shaw, Luke Paul Hoare
Thompson, Jordan Andrew
Thorpe, Thomas Joseph
Tuanzebe, Axel
Varela Olivera, Guillermo
Weir, James Michael
Willock, Matthew
Wilson, James Antony