[Player Ratings] Dortmund 2-0 Arsenal: Arteta + Ozil Under Fire After Poor Display
Arsenal produced a disappointing display in Germany as Borussia Dortmund eased to a 2-0 victory. Here are player ratings for Arsene Wenger's men from Gooner Mac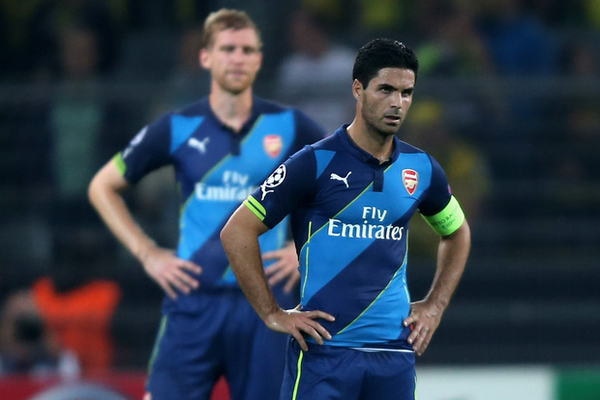 Arsenal produced a disappointing display in Germany as Borussia Dortmund eased to a 2-0 victory thanks to goals from Ciro Immobile and Pierre-Emerick Aubameyand. Here are player ratings from Gooner Mac.
Szczesny 6/10 | Superb in the first half as he kept us in the game with a string of fine saves, but let himself down with a poor decision to race of his line for the second goal.
Bellerin 6/10 | Felt sorry for him being thrown in at the deep end but he held his own under difficult circumstances.
Mertesacker 6/10 | Looks to be well off the pace right now. Went missing for the second goal, but otherwise okay.
Koscielny 7/10 | A rock for the opening 44 minutes but will be disappointed he didn't do more to prevent Immobile opening the scoring just before half time.
Gibbs 7/10 | Good to have him back and produced one of our best attacking moments but Welbeck couldn't convert his cross.
Arteta 4.5/10 | So slow it was painful to watch at times. Was nowhere to be seen for either goals as Dortmund sliced right through the heart of the team. It's not really his fault he's playing in a role he's not suited to, and Arsene's decision not to buy a defensive midfielder has already cost us dear.
Wilshere 7/10 | One of the only players who showed any heart and fight.
Ramsey 5.5/10 | Another below-par display from Rambo. He doesn't look 100% fit yet so hopefully his form returns soon.
Ozil 5.5/10 | Played out wide, and once again he was largely anonymous. One lovely reverse pass should have led to a crucial opening goal for Welbeck, but he fluffed his lines, otherwise not in the game. A complete waste playing him on the wing.
Sanchez 6/10 | Worked hard as usual but things just didn't come off for him. A few too many stray passes.
Welbeck 6/10 | Good to see him getting in to goal-scoring positions but his finishing was woeful. Wasted two glorious chances to open his account. Needs a goal soon before this becomes a problem.
Subs:
Oxlade-Chamberlain 6.5/10 | Added some pace in the middle of the park and was required to sprint back to make a last pitch tackle to prevent another goal.
Cazorla 6/10 | Barely saw anything from him in an attacking sense.
Podolski N/A
Manager: Arsene Wenger 3/10 | Time to ditch this 4-1-4-1 formation and get back to the 4-2-3-1 with Mesut Ozil in the middle and pace down the flanks. His decision not to bring in an athletic defensive midfielder is certainly going to cost us this season. No excuses for not addressing a glaring hole in the squad, not to mention our waffer-thin defensive options.
So a hugely disappointing evening but luckily Galatasaray drew at home to Anderlecht in the groups other game, so we haven't lost too much ground on them. We MUST beat Aston Villa on Saturday to end this winless run.
Other News
Arsenal know they need to beat Everton at the Emirates on the final day...

Manchester United finish-up a hugely disappointing season when they take on Crystal Palace at...