Analysis & Ratings From Arsenal's 4-1 Win Over Galatasaray
Arsenal eased to a 4-1 win over Galatasaray on Wednesday night to get their Champions League campaign back on track. Gunner333 gives us his 4 talking points.
Arsenal eased to a 4-1 win over Galatasaray on Wednesday night to get their Champions League campaign back on track. Here, Gunner333 gives us his 4 talking points from the game.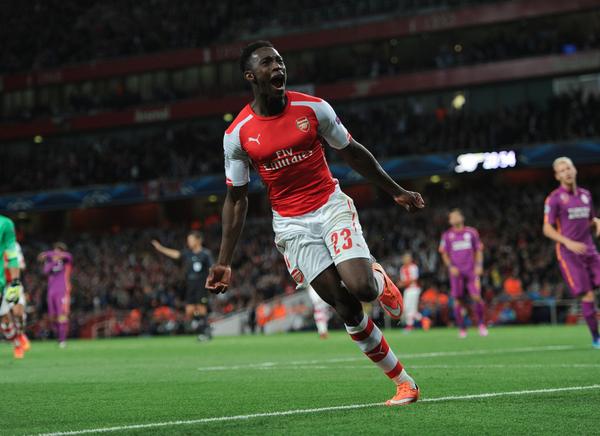 Following on from an opening group game defeat to Borussia Dortmund, Arsenal played host to a Galatasaray side eager to add to their draw against Anderlecht on match-day one.
The game took place 18 years to the day since Arsene Wenger took the Gunners hot-seat and he set the side up to symbolise his long-lasting philosophy, with an attack-minded side taking to the field.
Arsenal started brightly and opened the scoring when Danny Welbeck found space to calmly dispatch through the legs of Muslera. A fine strike from the Englishman, scoring his the first Champions League goal for the club.
Just minutes later and Welbeck showed great strength and intelligence to shrug of Felipe Melo with a neat header, before advancing with pace and  firing home an Henry-esque finish to double Arsenal's tally. We made it 3-0 shortly before the break when Alexis Sanchez burst clear before cutting inside and firing past a hapless Muslera.
The second half began much like the first half ended, with Welbeck clinching the first hat-trick of his professional career when he chipped home after being found by a wonderful ball from Oxlade-Chamberlain.
Galatasaray had not given much to the game all night but did chalk-up one blot to Arsenal's copy book, when Yilmaz found space only to be hacked down by Szczesny, who had to commit in the area. Szczesny sent to the stands, with a spot-kick also awarded. Ospina was introduced but could not deny the Turk's penalty.
Full time and a welcome win and performance from Arsenal. I will now analyse our performance from back-to-front.
At The Back- 7/10:
In all fairness, Wednesday nights opposition were far from inventive going forwards and made it easy for the Arsenal defence for much of the night. In general, Wenger's men dealt with the physical threat efficiently and had no problems in dealing with any speed [or more likely lack of it] from the Galatasaray full-backs.
My sole criticism however lays with the goalkeeper and, for a split moment, the two centre-halves. The pass that set-up Yilmaz for the awarding of the spot kick should not have got through, as they sliced us open far to easily.
Similarly, Szczesny switched off and exhibited a great rush of blood to the head. If selected on Sunday, the Pole – and the back-line in general – need to stay focused for the full ninety minutes, as these kinds of mistakes will be comfortably dealt with by the likes of Chelsea.
In The Middle- 9/10
A few names deserve great credit for how they performed in this clash; Oxlade-Chamberlain's electrifying moves heralded him MOTM by some, whilst Özil and Cazorla also both put in surprisingly active shifts, looking far more dynamic in the final third.
There were of course concerns about the nature of Wenger's selection through the middle, with Matthieu Flamini the only defensive orientated midfield man included. The result was to depend greatly on how hard the forward-thinking men would work in order to regain possession, but the rotation of jobs was well managed and the game plan seemed executed to perfection.
The flexibility of the midfielders called for some brilliant runs over the shoulder, matched by some incredible vision. However, I still have concerns about Flamini playing a lone holding role.
Generally though, I feel Wenger capped off his anniversary at the club in the correct style, combining a great physical threat to Galatasaray, with some energetic, fast football being played behind the striker. It can be praised also that this kind of showing came with the absences of both Jack Wilshere and Aaron Ramsey from the starting eleven.
Up-Top: 10/10
Champions League hat-tricks are difficult to come-by, but few can be more warranted than by Danny Welbeck's meticulous efforts to dig deep and find space.
Alexis Sanchez may have been a-part of the midfield, but the Chilean found himself cutting in from the left-hand side so frequently that he may as well have been Danny's forward partner. The former-Barca winger-cum-striker added real pace in the final third and he showed his threat with an assist and a goal for himself.
The only Gunner further forward than Sanchez was of course new Arsenal hero, Danny Welbeck. Playing against a shambolic defence he may have been, but he surprised even Wenger with his pace and showed a different side to the 'target-man' like forward we have seen in more recent performances with some clinical finishes.
I cannot sing Danny's praises enough, with myself believing he has silenced any doubters after an emphatic display. Each finish was more class than the last and anyone who says he cannot finish after this, could only be a Tottenham fan! By far the strongest department of the night, the front-men gain full-marks, with Welbeck my stand-out man of the moment!
Final Word
So what a brilliant bounce-back it was to the horror show in Dortmund. Let's hope we can take this confidence into Sunday.
Thanks for reading and feel free to comment below!
Other News
Chelsea will be looking to end the season with a win when they take...

Manchester United finish-up a disappointing season when they take on Crystal Palace at Selhurst...