Arsenal Dealt Huge Blow As Midfielder Ruled Out For At Least 8 Weeks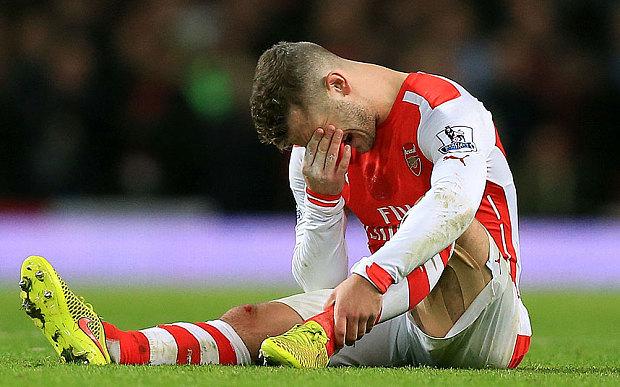 Arsenal have been dealt a major blow with widespread reports claiming that Jack Wilshere will face at least eight weeks on the sidelines with an ankle injury.
Wilshere was forced off during the early stages of our 2-1 defeat to Manchester United on Saturday afternoon after receiving a nasty tackle from Paddy McNair.
The 22-year-old attempted to carry on before being replaced by Santi Cazorla in the 55th minute and there's a chance he could have made the injury worse by doing so.
Arsene Wenger has confirmed that initial scans show the midfielder has suffered ligament damage and he will meet a specialist next week to determine the full extent of the injury.
The fear is that Wilshere will need surgery to repair the ligament which would rule him out for at least three months, but even if he avoids the need to operate the Guardian claim that he'll still miss at least eight weeks.
Wenger has called McNair's challenge 'a bad foul' but feels the youngster wasn't out to injure Wilshere. He told reporters today:
"I don't think it was a tackle with the desire to hurt, I think he went for the ball but it was a late tackle, a tackle which a young player can do. It was a bad foul."

"The tackle caught him from the side, just when Jack had moved the ball forwards too much. When he dived to make the pass, McNair came in to make the tackle and took him from the back and the side. When you see the picture, it is very bad. There is no bone damage; we knew that straightaway after the game but there is ligament damage. It does not look good." Wenger told the Guardian
The news is a huge blow as Jack was finally putting a run of games together after three years of being plagued by injuries which saw him have surgery on both his ankles.
Let's hope that Jack doesn't require yet more surgery but even an eight week lay-off will see him miss the entire festive and New Year fixtures and he won't be back until late January at the earliest.
It means it's going to be another frustrating season for the midfielder and it makes you wonder if he's ever going to fully get over his ankle troubles. Wilshere's playing style seems to attract fouls and he's seemingly incapable of avoiding the type of tackles that put his ankles at risk of injury, so unless he learns to ride these challenges I fear he'll always be susceptible to injury.