[Photos] Two Versions Of Man Utd's New 2015/16 Home Shirt 'Leaked' Online
Two versions of the new Manchester United 2015/16 home shirt have been 'leaked' online over the past 24 hours. Check them out for yourself here.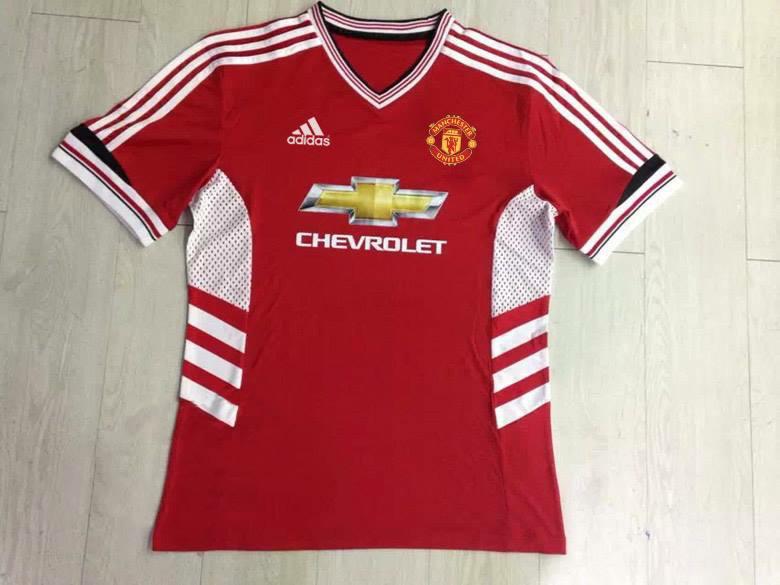 Is this the Manchester United home shirt for the 2015/16 season? 
The image above has been doing the rounds on Twitter over the past 24 hours and it's supposedly a mock-up for the new Man Utd home shirt for next season.
It shows the Adidas manufacturers logo on the chest with the three stripes down the shoulders and arms, but it also suggests that United will move away from the traditional solid red look as there is white detailing down the sides of the body in this mock-up.
United signed a record-breaking deal with Adidas last summer which will see the German manufacturer take over from Nike at the end of the current campaign, so fans have been eagerly awaiting a glimpse of their debut kit.
However, it's safe to say that fans will be somewhat underwhelmed if this turns out to be what's officially unveilled later this year, as this image hasn't gone down too well on among supporters social media.
Of course we always get 'leaked' pictures coming out around this time of year and the picture above could very-well be a total fake, and judging by the response so far, most fans will be hoping it is.
There has been a second image appear online in recent hours which has been far better received among the fanbase. The image below is a far simpler design with a more understated Chevrolet logo on the front.
It's not clear whether this is a genuine mock-up or if a disgruntled fan has made a bold attempt at coming up with his own design, but so far this has been the clear favourite among the Red Devils….
What do you think? Which kit do you like the best?
Potential new United top. But Bayern munichy but still very classy pic.twitter.com/R1aYZYt0rb

— red devil (@cbd10sts) January 14, 2015
Other News
Arsenal manager Mikel Arteta has hinted that Alexandre Lacazette, Eddie Nketiah and Mohamed Elneny...

Arsenal know they need to beat Everton at the Emirates on the final day...