Arsenal vs Man Utd: United Expect to Beat Arsenal & Clinch No.19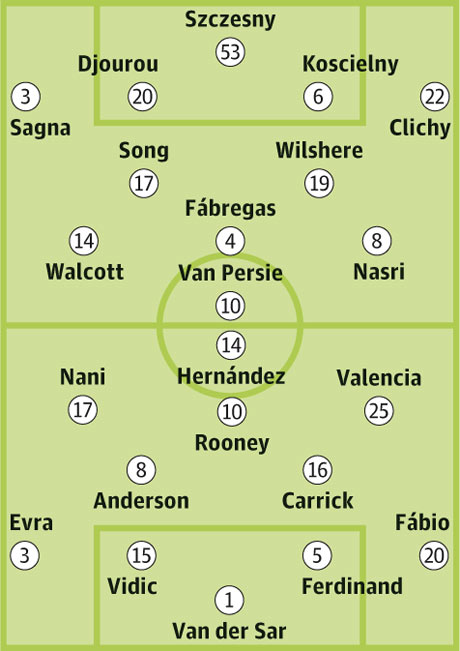 A few months ago, Arsenal and Manchester United looked like the only two title contenders, and the upcoming game on Sunday between the two sides would most likely be a crucial title decider. Now, as we near the end of the season and the fiercely challenged title race draws to a close, the game is still as important as predicted, but Arsenal will not be playing in the hope of overtaking United and lifting the title. Rather, they will be playing for their pride in front of some disappointed and once again trophy-less Arsenal fans at the Emirates.
It is a game that could still effect which way the title swings, with Chelsea gathering pace, and galloping with intent on United's tails, but Sir Alex Ferguson's side will be just as determined to shake the two pests away and step closer to some increasingly expected silverware.
United is a club of massive expectation, and ever since Sir Matt Bubsy won United's first Champions League trophy in 1968, the bar has been raised up high with the gods. Sir Alex Ferguson's career with United has been hugely successful, with trophies routinely filling the United cabinet with pride etched on every fans faces. In the Scot's tenure, Arsenal have been a side constantly challenging United, and the games between the two sides have brought up some classics, as well as creating some legends. The game on Sunday should be no different, but with United on the rise, and Arsenal currently in Premier League turbulence, Ferguson will expect his team to come out on top.
If United play like they did against Schalke earlier in the week, with outstanding performances from players all over the pitch away from home, then Arsenal will be in for a fright. They come off the back of a devastating blow at the hands of Bolton, with a late, late goal shattering Wenger's hopes for a trophy, and the confidence of the already somewhat fragile Arsenal players, cannot be too high at the moment. Two clubs, in the current trophy stakes who are a complete antithesis of each-other.
Arsene Wenger has made it clear in the build up to the game, that Arsenal will want to win – not to challenge for the title – but to secure this third spot that they currently sit quite uncomfortably in, with a money machine in Manchester City ready to jump on their backs and leap over them at any opportunity:
"We really have to watch Manchester City, because that [third place] is not done – even to be in the top four is not done."
"We have absolutely to fight like mad."
Wenger went on to say that he is convinced that his side can beat United, though some supporters will be, although admiring his optimism, slightly sceptical themselves after looking at their recent form guide. Four draws, one loss and one win in their last six games does not inspire confidence when they are up against a side in top form, with four wins, one draw and one loss in their last six games. United have not been playing sizzling, inspiring football of late, but they so often get the job done – a feat Arsenal have found so hard to achieve this season in games they are expected to win.
Sir Alex commented that his side have every chance of beating both Arsenal and Chelsea in their upcoming two games, but insisted that the title race is not yet over, with drama, and twists and turns up ahead:
"It is not going to be any easier for Arsenal or Chelsea than it is for us. These are difficult games."
"A point away from home at Arsenal is not the worst point – but that is not what we are going down there looking for."
That there is the attitude Manchester United have. They go into each and every game with every player knowing they can win, and expecting to win. Wenger has gone on about the "attitude" of his players and how exceptional it has been, but by one look at Manchester United, it is clear, the attitude at Arsenal is not good enough.
Make no mistake, if either side lose, they will be hugely disappointed, but with the expectation so high at Manchester United, and the title in their hands, it will be infuriating for their fans and the club if they do not overcome a wavering, tired and downbeat Arsenal side.
Tell me what you think!
Submitted by DBSFootball
Other News
Arsenal have agreed a deal to sign Sao Paulo winger Marquinhos in a £3m...

Manchester United are trying everything to land Barcelona midfielder Frenkie de Jong, Sky Sport...