The Full Time Verdict: Wenger IN or OUT?
And so it's been said. We all knew it, and now it's official. The reason Arsenal have not got any silverware is because of its defensive ability.
I have written before that there has been a divide in the Arsenal sphere, and fans are now starting to choose sides, over the main issue of Sacking the Boss. Hmmm…sacking the boss, I'll come to that later.
I hear fans say year after year we have qualified for the champions league, and that we have always finished in the top 4. Now that actually got me thinking. What has the Gooners psyche come to? Why is it that everybody is happy that we have finished in the top 4? Where is the spirit to win something for a change? Where is the spirit to win?
Our manager is stubborn, and he will not listen to the voice of reason. Something I have known for quite some time. Infact this is an extract of a letter I wrote to the man before the first day of the season.
Before I end my letter let me tell you something. I love my club, and I do not want to see it get beaten down so badly even though it is financially completely stable. My request to you is that, if you have any doubts that you will not be able to give us a trophy this year, please give in your resignation to the board. There is still time and a new manager can be appointed. We as Arsenal fans can never doubt what a man like you has done for the club so far as the debts are concerned. But at the end of the day, as fans, we want trophies, not balanced books. So please check yourself before you start managing this season, not only in your hands do you manage a top-class club but also in your hands rests the happiness of a million Gooners around the globe…
I doubted his contribution from day 1 of the season, as I knew something is wrong with him. He is not pragmatic and he will not change. He WILL NOT! IF he does not change Arsenal's situation will not change and we will go on supporting a club which is heading down the wrong path.
Wenger has been acting like a narcissistic drone all these years, and in this year it has finally pissed us of so much that every blog I go to says that something at Arsenal should change.
SACKING THE BOSS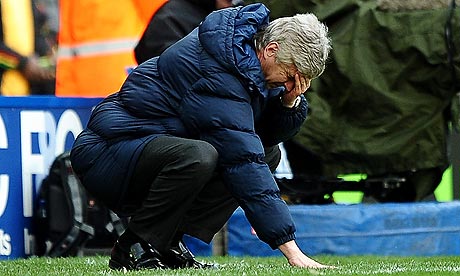 1. WENGER OUT:
Now to the topic of sacking the boss. Let's look at this logically. If Wenger leaves, surely there is going to be some commotion? Gooners will not like it, and the media is going to hype it up so much.
Then again, what will Arsenal gain? A new manager will come in. He shall want to spend (otherwise there is no difference between the 2, at least in this aspect), and we may get some players. As for the current crop of players, they shall not approve of the manager leaving, and we may just bid farewell to our captain as he catches the next flight to Spain.
The club shall 'increase' it spending, and thus this will reduce the Gross profit, and thus hamper the efficient running of the club. If the new manager spends he is not doing it the Arsenal way, so there again we have a shift in philosophy.
The entire club is going to change. Why? Because we have a new manager with new policies, a new mindset, and a new way to do things. Unless of course the new guy is Dragan Stojkovic, but if reports are true I hear he has signed a new deal with his club.
2. WENGER  STAYS:
Now if Wenger does not go then we can be assured that Cesc has a chance of staying in North London. The club will maintain its principles, values and ethics. Something which we as fans do not entirely agree on. At least, in terms of transfers.
Overall I don't know what will change, all we can hope is that "something will."
However, there is 1 point. If AW stays, our squad will be more comfortable with what is going on in the club, and this is quite crucial. We can compare the situation to an employee who is in a job in which he not certain to stay. If you are not certain whether you shall stay or not then you won't work well.
To be brief, it turns into a situation where we may win a trophy, JUST LIKE EVERY YEAR, but this time our team will be even more experienced..
Wenger is not the man to lead Arsenal. Well, he did do it for 14 years. A friend of mine did mention the point that he spent 4 years out of the 6 in which we have been trophy less in rebuilding. In that time he has managed to fund an entire stadium of 60000 people. And he has NOT LET the club become like Liverpool or fall into bankruptcy. The debts are in control, and he wishes to WIN A TROPHY showing the world that he did it in a perfect manner. Ok, let me correct myself, in a manner in which he thinks is perfect.
THE VERDICT:
I have said earlier that I was not entirely convinced about him from day 1 of the season. He did not sign anybody who I felt would provide a boost to the current Arsenal team. And well, I was right. But at the same time, I was wrong. Szczesny has proved AW's faith in his young goalies. Rambo and Jack have again re-instilled faith in us Gooners that they can carry this team. And as it stands we have really improved on our performances this season.
Now I know some may say we have less points than last season, but there is a difference here which  these 'some' forget. Every year the premier league becomes more and more difficult. Every year we have teams performing better. As competitiveness increases so does the standard, and hence the results. This time the title was won with the lowest points total, so one can see the difference in standards between the 2010 and 2011.
I am not going to lie here. DKD and I (but especially DKD) have abused Wenger, and called him many things because I felt he was not good enough with his tactics. Few Experts believe that Wenger is a great coach but not a great manager. If you ever notice, the formations which he puts up have no real sting in them. For instance, under Mourinho Inter played a 4-2-1-3 when they faced Italian teams, but when they face FCB they switched to a 5-4-1. Each formation has a stint of 'attack', or 'ultra defense' in them. The only thing which our manager does is swap the players positions in formations. If we play a 4-3-3, then the 3 in the middle go on changing. Everything else is static.
Szczesny has come out and said that he believes in Wenger and that the manager should not change. He has reasons to believe it as he says that the team is responsible and that the manager has stood by them throughout the season. That I have to agree on. AW has stood behind this team as if it was his child. He has build this team, and he has not given up hope on this team, ever!
Should he stay or should he go….
The Armoury's author DKD's VERDICT:
I feel he should stay. Yes, I know it may come as a shocker to 'some people', who are 'AW's followers' and visit this blog often, but I think he should stay. BUT, (and I have to mention this one) my verdict is mainly based on the fact he will not realistically leave because the board do not have the spine to sack him!
MY VERDICT : He should stay
Well, what can be the worst case scenario if he stays? The club will repeat what they have done for 6 years, and after the season finishes he will be forced to change, by if I may add, a very very very very very angry fan Base!
On the other hand if he stays, we are going to contest for the title, forget that, we are going to contest for the 'Quadruple' and we shall be run in an efficient manner. And well, we may just win something! I mean look how close we were this season…
CONCLUSION:
I hope my verdict is okay, in view of 'the things' I have said against our manager. Personally I believe the man deserves something or life is just not fair. Come on Gooners lets stick by him a little longer.
Guns-out,
Other News
Liverpool take on Burnley at Anfield this evening needing a win to close the...

Liverpool and Manchester United face a fierce battle with Bayern Munich in the race...