Proof That Arsenal Were Cheated, While Man Utd & Chelsea Got Lucky
Arsenal would have finished in second place last season had it not been for refereeing decisions going against them, that's according to independent research conducted recently.
Broadcaster and journalist Tim Long conducted his research on 713 'significant incidents' from 380 Premier League games in 2010/11 for his radio documentary Beyond The goal Line: Football's Technology Debate.
A significant incident included penalties, goal line incidents and offside calls with each leading to, or could have lead to, a goal. His programme looks at the need for technology in football and how refereeing mistakes can make a real difference to clubs.
According to his findings, Arsenal would have finished in second position with an extra 4 points had the correct decision gone their way, while Man Utd, Man City and Chelsea benefited from poor decisions and should have finished with less points than they ended up with. Liverpool and Tottenham would have ended up with the same number of points.
Here is the table as it 'should' have looked at the end of last season, according to Long's research finding: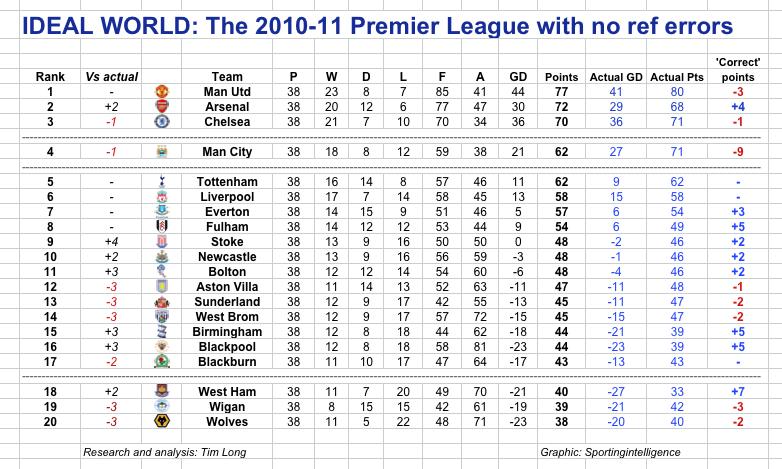 Long wasn't aiming to highlight the referee's errors but to show the need for technology in football and how it could be used to make match deciding decisions more accurately.
A full account of this story and research can be found on Sporting Intelligence.
Other News
Manchester United are leading the way to sign Napoli striker Victor Osimhen this summer,...

Arsenal have made an enquiry to sign Barcelona forward Memphis Depay ahead of the...