Arsenal Cast Doubt Over Ozil Injury After Refusing To Confirm 3 Month Absence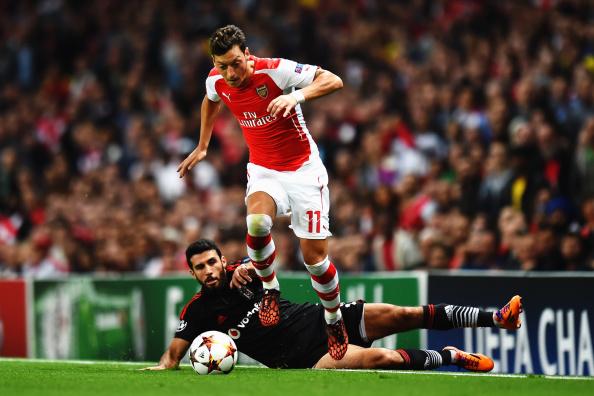 Arsenal have confirmed that Mesut Ozil has picked up a knee injury but have refused to go along with the German FA's assessment over his recovery time.
Ozil linked up with the German national team on Monday but missed their first training session on Tuesday after complaining of pain in his left knee.
Arsenal advised the German FA to run medical checks on the 25-year-old and he was sent to Munich on Wednesday morning to undergo an MRI scan to determine the full extent of the problem.
The results came back this afternoon and the DFB [German Football Association] announced that Ozil had a partial rupture to his left knee ligament and claimed he would be out for between 10 and 12 weeks.
"Mesut Ozil already complained on his arrival in Frankfurt on Tuesday about pain in his left knee . The MRI examination today at National Dr. Hans – Wilhelm Müller -Wohlfahrt in Munich revealed a partial rupture of the outer band of the left knee joint. The treatment is conservative, with six weeks of immobilization of the knee joint . Mesut Ozil is likely to be ten to twelve weeks." A statement read
Arsenal fans were stunned to learn that another one of our key players had picked up a serious injury and was now set to be on the sidelines until the New Year. However, there could still be a chance that we may see Ozil sooner than expected as the club have now had their say on the matter.
A statement released on Arsenal.com confirmed the playmaker is on his way back to London after suffering a knee injury, but surprisingly they refused to concur with the German FA over the amount of time Ozil will be out. Arsenal stated that we'll make our own assessments but claimed it's still to early to say how long the player will be out for:
Arsenal can confirm that midfielder Mesut Ozil is returning to London from international duty with Germany after picking up a knee injury during Sunday's game at Chelsea.

Ozil complained of a sore left knee after the game and the club advised the German FA to run medical checks when he joined up with his international squad.

The club will make further assessments and it is too early to say how long Ozil may be out of action.
We'll have to await further news once the club have conducted their own examinations and pray that they find the injury isn't as bad as first feared. It's probably unlikely, but you never know.
Either way it looks like Ozil is now set for a spell on the sidelines and our rotten injury record continues, with the German joining the likes of Theo Walcott, Aaron Ramsey, Mathieu Debuchy, Olivier Giroud and Mikel Arteta in the treatment room.
It's difficult to put a finger on why we keep suffering so many injuries but I fear that until the issue is resolved, we'll never make a real push for the title. A team simply can not afford to have six first team players out at the same time throughout the course of a season.
Best of the web