Chelsea & Man Utd Blow As Rodgers Says He'll Force Sterling To See-Out His Contract
Brendan Rodgers has ruled out selling Chelsea and Man Utd target Raheem Sterling after saying he expects him to honour the final two years of his contract.
As the opening of the summer transfer window approaches, managers are working hard identifying targets and lining-up potential deals so we'll bring you all the news and gossip. Today, Brendan Rodgers has his say on Raheem Sterling….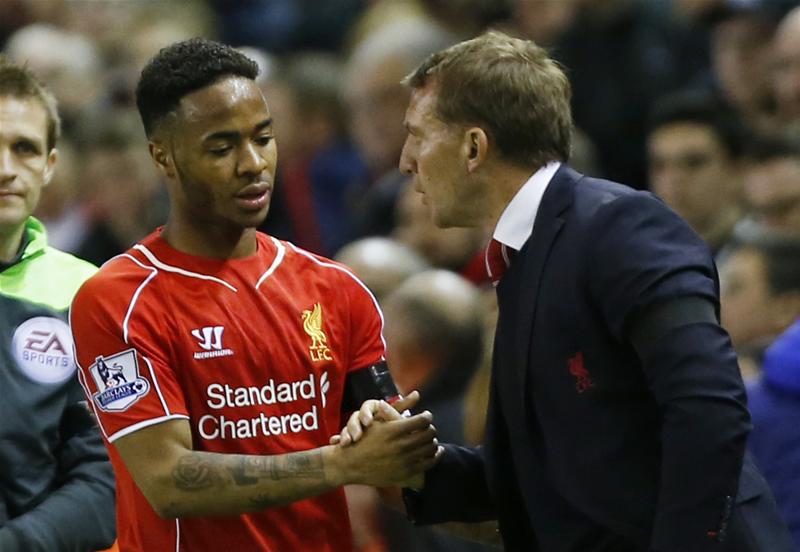 Brendan Rodgers has ruled out selling Chelsea and Manchester United target Raheem Sterling this summer after saying he expects the attacker to honour the final two years of his Liverpool contract.
Sterling's future has been the subject of much debate over the past few months after he rejected a £100,000-a-week contract offer from Liverpool earlier this year, with reports claiming that the attacker has made it clear to Rodgers he wants to leave this summer.
The 20-year-old's agent Aidy Ward hit the headlines yesterday after being quoted in the Evening Standard as saying that Sterling has no intention of signing a new deal at Anfield even if he was offered £900,000-a-week.
"I don't care about the PR of the club and the club situation. I don't care." Ward said

"He is definitely not signing. He's not signing for £700, £800, £900 thousand a week. He is not signing.

"My job is to make sure I do the best with them (my clients). If people say I am bad at my job, or they are badly advised it does not matter."

"Carragher is a knob. Everybody knows it. Any of the criticism from current pundits or ex-Liverpool players – none of them things matter to me. It is not relevant."

"I am not worried. Worried is making a decision not knowing what is going to happen. Every premier league club will make a bid for him."
Liverpool subsequently cancelled talks with the player and his representatives – which were due to take place today – and the uncertainty over his future has led to speculation linking him with a whole host of top European clubs.
Reports earlier this week suggested that Chelsea boss Jose Mourinho was ready to cash-in on Juan Cuadrado and Oscar to fund a move for the England international, while the Telegraph claimed on Thursday that Manchester United have already contacted Liverpool to register their interest.
However, it appears any potential move to Stamford Bridge or Old Trafford this summer is now off the table as Brendan Rodgers has told reporters at his press conference this morning that he expects Sterling to honour the final two years of his current Liverpool deal and hinted that the owners will refuse to sell.
The Reds boss also claims that Sterling isn't unhappy at the club and insists his relationship with the player has not been affected by the speculation over his future.
Rodgers told reporters today:
'It's very difficult to comment on what other people speak about. We have always been clear. It will always be dealt with internally and we look to do thing privately. The concentration for myself is to continue to improve Raheem as a footballer.

'Whether there are talks or no talks, he has two years left and I expect him to see that two years through and continue to behave as immaculately as he has done. It is quite simple.

'I don't see Raheem being unhappy. His representative made it very clear he wanted to speak at the end of the season. I'm sure talks will take place over the summer.'

'If he is fit, he will be available for selection. My relationship has not been affected. We have given Raheem an opportunity to play for one of the greatest clubs in the world. We want to resolve the situation but it does not change my approach to him. He is a good kid who has matured over the last few years.

'If he starts or doesn't start, he will get the support from the fans. What he said and didn't say will remain private. Whatever conversation I have had with a player will remain private. I am not going to sit here and reveal what went on.

'The ownership have shown their strength in their time here. They have done an incredible job to stabilise the club. In this situation, they will show that strength and power to the club. I talk regularly with the players.

'The simple fact is Raheem has two years left on his contract.'
So Liverpool are publicly insisting they have no intention of selling Sterling this summer and the clubs owners have shown in the past they are prepared to force a player to stay at the club against his will.
Liverpool famously refused to sell Luis Suarez to Arsenal in 2013, despite the player going public with his desire to leave, and it looks as though they are prepared to take a similar stance with Sterling.
READ MORE –> Chelsea transfer news | Liverpool transfer news | Man Utd transfer news
However, I'm sure the likes of Chelsea and Manchester United, to name a few, will still try their luck and test Liverpool's resolve with big-money offers, so it's going to be interesting to see how this all plays out.
Other News
Chelsea remain keen on securing the services of Barcelona star Pierre-Emerick Aubameyang, according to...

Barcelona midfielder Frenkie de Jong continues to remain Manchester United's absolute number one priority,...