"Fuming" – Some Liverpool fans rage at VAR after controversial 1-1 draw at Man Utd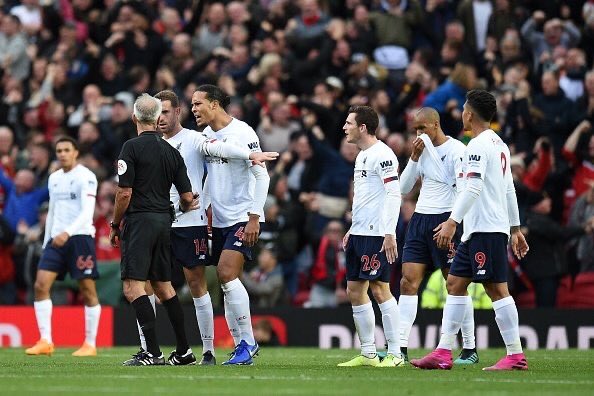 Liverpool fans have been venting their anger at VAR following a controversial 1-1 draw with Manchester United at Old Trafford this afternoon.
The Reds went into the game looking to secure a record-equalling 9th consecutive victory having won their opening 8 Premier League games this season while they were also hoping to restore their 8 point lead over Manchester City at the top of the table.
Man Utd put Liverpool's unbeaten run in serious doubt when Marcus Rashford opened the scoring in the 36th minute with the England hitman converting from a lovely Daniel James cross from the right wing.
However, the Liverpool players were incensed as they were adamant Divock Origi had been fouled in the build-up to the United goal after Victor Lindelof appeared to hack down the Belgian attacker from behind.
Referee Martin Atkinson waived away the protests while the Video Assistant Referee checked the goal but they refused to overturn the decision so Man Utd's goal stood despite the protestations from the Liverpool players.
To make matters worse, Liverpool thought they had equalised when Sadio Mane fired past David De Gea but VAR chalked it off after noticing the Reds attacker had handled in the build-up. Liverpool felt Mane had been fouled by Lindelof as he handled but the goal was ruled out and United still led.
The league leaders put the VAR controversies behind them to snatch a late point when Adam Lallana came off the bench to tap home from an Andrew Robertson cross at the far post to make it 1-1 in the 85th minute.
The draw preserved Liverpool's unbeaten start to the league season and secured what could be a vital point come the end of the campaign but fans were still fuming at the decisions that went against them.
Many Liverpool supporters vented their anger on social media as they slammed VAR as useless, pointless and a shambles while many also took aim at referee Martin Atkinson. Excuse some of the bad language in the following tweets….as you can see some Liverpool fans were not happy!
What's the point of VAR?

— Kloppholic (@Kloppholic) October 20, 2019
There is literally no subjectivity there. It's a foul. It was checked. I don't get it. Obviously I don't get the rules of football. Bizarre. Fuming.

— Empire of the Kop (@empireofthekop) October 20, 2019
Clear foul. VAR is an absolute disgrace.

— Anfield Watch (@AnfieldWatch) October 20, 2019
Atkinson allowed kicks from behind on Origi + Mané before the goal. Even the handball disallowed goal was a clear foul on Mané. Don't think Atkinson has given LFC a single foul in their half. Expected VAR to overturn bad decisions but continues to just back-up refs' incompetence.

— Paul Tomkins (@paul_tomkins) October 20, 2019
Absolutely shambles. Var is pointless

— Jay Pearn (@JayPearny) October 20, 2019
Disgraceful decision. What is the point in VAR!?

— Steven Gardner 🇬🇧 (@stevie_g_95) October 20, 2019
— ShotOnGoal (@shotongoal247) October 20, 2019
No point having VAR If they are not going to use it officials not fit for purpose

— Nathan Rivers (@Goose_1) October 20, 2019
VAR can fuck off.
Atkinson can fuck off.
Martin Tyler can fuck off.

— The Redmen TV (@TheRedmenTV) October 20, 2019
VAR is a fuckin shambles. Utter fuckin farce. Fuck off

— Spion Kop (@TheKopHQ) October 20, 2019