Combined Manchester XI: Do You Agree With Our Utd-City Mash-Up?
Manchester City welcome Manchester United to the Etihad Stadium on Sunday. Here's our combined dream team XI from the two Manchester clubs. Do you agree?
This weekend sees one of the biggest rivalries in British football do battle as Manchester City welcome Manchester United to the Etihad Stadium on Sunday afternoon.
Last season City had the bragging rights as they were the defending champions but the tables have turned this year after United comfortably reclaimed their crown last campaign.
In preparation for the big game we decided to come up with a 'Manchester Dream XI' where we select a combined eleven from the two Manchester clubs. With both squads packed with quality, it was not an easy task and I'm sure opposing fans will have something to say about some of our decisions, but here's the team we went for:
Goalkeeper – De Dea (United)
This was one of the most difficult decisions as both teams have fine goalkeepers. A year ago this would perhaps have been a simple choice to select Hart as De Gea was still finding his feet in England while England's No.1 was in fine form and arguably one of the best in the world.
However, their fortunes have changed in recent months and Hart's form has dipped drastically with basic errors creeping into his game more regularly. On the other hand, De Gea has enjoyed an excellent last 12 months and has certainly settled into life in the Premier League. So we've gone with the man in form.
Right Back – Zabaleta (City)
Another tough one as Rafael has emerged as an excellent young defender but we feel Zabaleta is the best full-back in the division, and one of the best in Europe, so he has to make the team.
Left Back – Evra (United)
The Frenchman has been criticised a bit in recent times, even by his own fans, but he's still a solid full back and gives his all for the team. Clichy pushed him close, but Evra just edges him out.
Centre Back – Kompany (City)
Arguably the best centre-half in the league, Kompany is a rock at the back for City and it would be impossible to leave him out.
Centre Back – Ferdinand (United)
It was a tough call between Ferdinand and Vidic but we've gone with Rio as we feel he'd be the best partner for Kompany. It was the only way we could decide without flipping a coin!
Midfield – Toure (City)
An absolute beast of a midfielder. His powerful, driving runs have become a regular feature to his game and he also has goals in him.
Midfield – Carrick (United)
Perhaps an under-rated footballer in many people's eyes but he's one of the best holding midfielder's in the game and his use of the ball is exemplary.
Forward Left – Aguero (City)
Typically a striker, but Aguero is capable of playing in an attacking midfield position as well. Best known for his last second goal that clinched the title in 2012, the little Argentinean would be a hand-full for any defender.
Forward Right – Silva (City)
When fit and on-form, the Spaniard is unplayable at times. His touch and vision set him apart and we feel he had to be in the team.
Attacking Midfield – Rooney (United)
You didn't think we'd leave him out, did you? Despite a wealth of attacking talent to choose from, Rooney fills the creative hub of the team playing in the hole behind the striker. Who is…..
Striker – Van Persie (United)
The best striker in the league, RVP is the obvious choice and he would spearhead the team in what would form a devastating attacking line-up.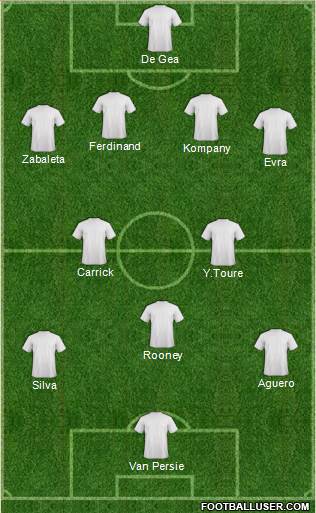 Not a bad team, is it?! This lot would give any eleven a run for their money and it wouldn't be far off from being a Premier League all-star XI.
So, do you agree with our choices? What would your team be? Share your suggestions below.
Other News
Manchester United manager Erik ten Hag continues to prioritise a summer move for Chelsea...

Manchester United are eyeing an audacious move to sign Real Madrid midfielder Casemiro, according...