[Videos] Tottenham players celebrate wildly in dressing room after stunning Ajax win
Watch the Tottenham players celebrate in the dressing room after booking their place in the Champions League final with a 3-2 victory over Ajax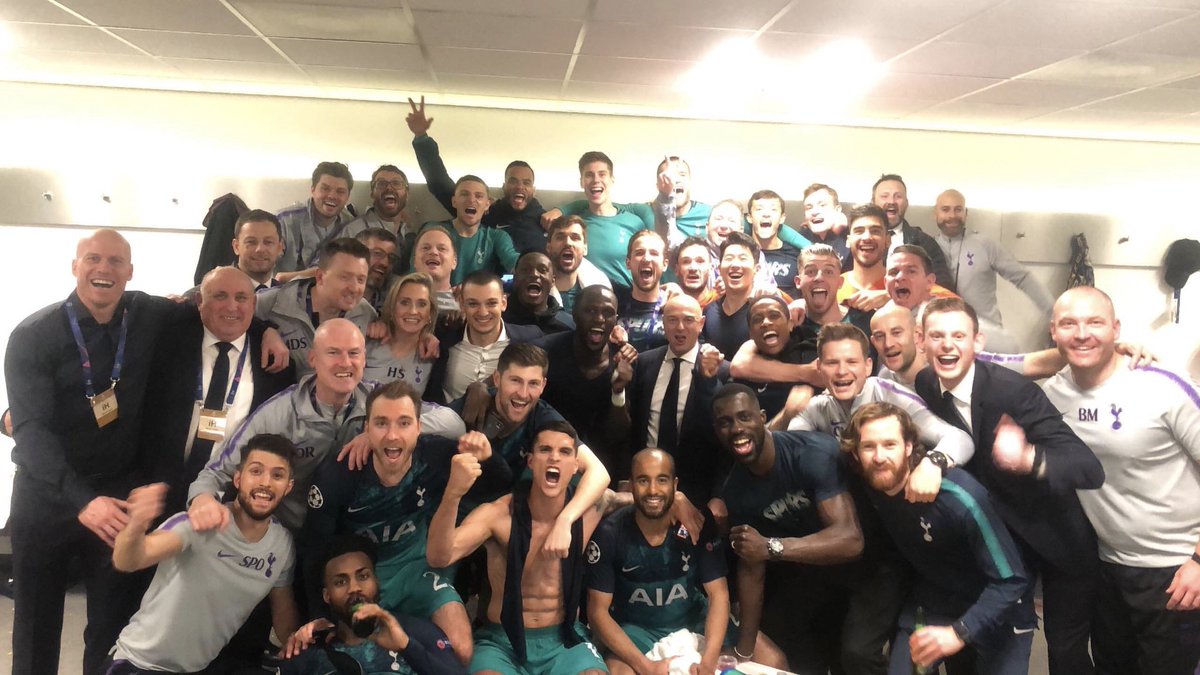 Tottenham produced a stunning second half comeback to book their place in the Champions League final with a 3-2 away victory over Ajax on Wednesday night.
Heading into the second leg trailing 1-0 from last weeks home defeat, Tottenham gave themselves a mounting to climb as Ajax doubled their advantage when Matthijs de Ligt headed home in just the 5th minute.
The hosts were on top for much of the first half and appeared to book their place in the Champions League final when Hakim Ziyech made it 3-0 on aggregate to give the Dutch side a seemingly unassailable lead at half time.
However, inspired by Liverpool's dramatic comeback against Barcelona the night before, Tottenham produced a stunning fightback of their own as Lucas Moura pulled one back in the 55th minute with a smart finish.
The Brazilian attacker then gave Spurs genuine hope when he made it 2-2 on the night – and 3-2 on aggregate – in the 59th minute meaning the north Londoners needed just one more goal to progress to the final on the away goals rule.
It looked like Ajax would hold on as we headed into added time in extra time but Moura fired home a low drive from the edge of the box in the 96th minute to seal one of the most dramatic comebacks in Champions League history.
Tottenham will now face Premier League rivals Liverpool in the final in Madrid on June 1 and understandably the players were in jubilant mood after the game as they celebrated wildly in the dressing room.
Erik Lamela and Moussa Sissoko both uploaded videos to Instagram showing the Spurs players signing and dancing to the famous Oasis hit 'Wonderwall' as they celebrated their remarkable comeback in Amsterdam.
The players have also been reacting on social media with the likes of Dele Alli, Christian Eriksen, Sissoko, Jan Vertonghen, Victor Wanyama, Fernando Llorente and Harry Kane all posting messages on Twitter.
?? Dressing room delight! ??

? @MoussaSissoko#UCL ⚪️ #COYS pic.twitter.com/JpDWZQLYO6

— Tottenham Hotspur (@SpursOfficial) May 8, 2019
Scenes in the dressing room!!

? @ErikLamela#UCL ⚪ #COYS pic.twitter.com/szFjR5adUX

— Tottenham Hotspur (@SpursOfficial) May 8, 2019
We're @ChampionsLeague finalists! We Are Tottenham! What an unbelievable night! ??? ????? Congratulations @LucasMoura7 for your amazing hat-trick! ? #COYS #UCL #TogetherTHFC #RoadToMadrid2019 pic.twitter.com/B8JWtUwlLC

— Fernando Llorente (@llorentefer19) May 8, 2019
What just happend? ?

— Christian Eriksen (@ChrisEriksen8) May 8, 2019
Incredible from the boys!! Champions League final!!! #UCL #COYS pic.twitter.com/nFQV8BCt1j

— Harry Kane (@HKane) May 8, 2019
We did it #UCLfinal ???????? #COYS pic.twitter.com/uYJdj0Ai1w

— Victor Wanyama (@VictorWanyama) May 8, 2019
The happiness and the heartbreak.
But this is why we play! pic.twitter.com/EowOOouqwG

— Alderweireld Toby (@AlderweireldTob) May 8, 2019
UNBELIEVABLE!!! pic.twitter.com/DtCxEaIKZv

— Jan Vertonghen (@JanVertonghen) May 8, 2019
It was impossible so…. WE DID IT ??? #COYS #MS17 #UCL pic.twitter.com/T20vYarM35

— Moussa Sissoko (@MoussaSissoko) May 8, 2019
BEST NIGHT OF MY LIFE!! MADRID HERE WE COME!! ??? #COYS pic.twitter.com/h4jsnNzUFc

— Dele (@dele_official) May 8, 2019
Other News
Manchester United defender Aaron Wan-Bissaka has requested a new contract after the club blocked...

Chelsea will be looking to end the season with a win when they take...