Chelsea vs Arsenal: Preview, Team News & Predicted Line-up
Preview of Saturday's clash between Chelsea and Arsenal at Stamford Bridge, including team news, and predicted line-up.
Chelsea vs Arsenal preview, written by an Arsenal fan.
Chelsea for me is a jack in the box. Honestly, anything can happen at the Bridge this saturday absolutely anything. We may win by 2, lose by 2, get thrashed (and by that I mean a good 3 goal margin) or scrape through with a 0-1 win. Its possible, so don't write it off.
1 positive point is that last time Chelsea last kept a clean sheet was against Stoke. Another plus point is that Drogba is not playing.
Now to the negative(s):
Villas-Boas, like Mourinho, is a tactician and in my opinion he already knows how to hurt us. The main thing is to get the ball back from them in the midfield, and maintaining a constant high tempo, which is easier written than done. We have to watch the counter-attacks because they have fast & clinical players like Sturridge, Mata and Torres.
I admit I am worried about Chelsea. And the main reason causing me concern is that Chelsea have the will to play football and WIN. Lets be frank, they were away at Goodison Park and came away with a win having 10 men for over half an hour. If thats not desire then I do not know what is.
Injuries:
The Boss has stated that Vermaelen may be a bit short  for saturday, but he should be available. Jenkinson  & Gibbs will most likely miss out.
Probable Line -up: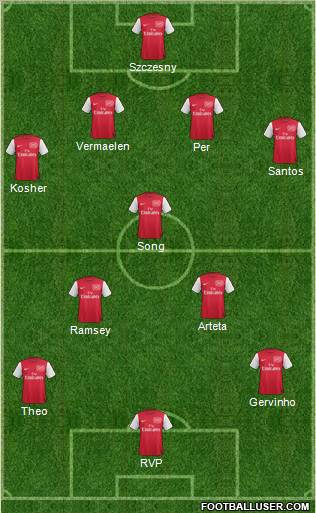 I know I am taking a long shot, but I do feel that this will be the line-up for saturday. If anything does change it will be the fact that DJ shall start in stead of Vermaelen, with Koscielny moving to centre back. All 3 midfielders will have their periods going forward, but the crucial thing is falling back when we lose the ball. Chelsea will pounce on us because its obvious when we attack we commit players forward. The attacking trio is fine except for Walcott who needs to step up his game!
Cheers,
Other News
Manchester United are interested in signing Eintracht Frankfurt defender Evan Ndicka, French journalist Fabrice...

Marquinhos is in London to undergo his medical and complete a move to Arsenal...