4 Reasons Arsenal Could Still Be Title Contenders
Arsenal cemented their place in the top 4 with a 2-1 win over Newcastle on Saturday. Here, Gunner333 gives us 4 reasons Arsenal could still be in the title hunt
Arsenal cemented their place in the top four with a hard fought 2-1 win over Newcastle United at St James' Park on Saturday afternoon. Here, Gunner333 gives us 4 reasons Arsenal could still be in the title hunt…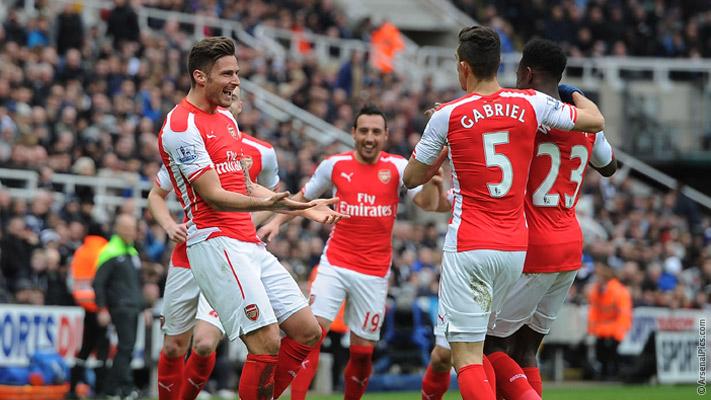 Momentum is gathering for Arsenal at present and a victory at Newcastle on Saturday would make it six consecutive league successes. Ramsey, Paulista and Chambers were brought into the team, as the Gunners looked to continue narrowing the gap between themselves and second-place City.
The anticipated hunger from the Toon Army, after recent poor displays, was lacking in the opening stages and The Arsenal would take full advantage. Colback cagey in taking down Giroud, with Cazorla working the opener from the resultant set-piece. Welbeck's flick from the Spaniard's ball was guided home by Frenchman Giroud, to hand the visitors the all-important opener.
Fuelling Arsenal's drive for a second, Sanchez showcased some divine skill out-wide to flick the ball over Gouffran's head, before setting up Welbeck free in space, but his misguided volley sailed passed the post.
With the Gunner's mounting the pressure, another goal was imminent. After Sanchez saw his cross anxiously averted for an Arsenal corner, Santi Cazorla's set piece magic would once again meet Giroud, who beat Williamson to power home a headed second.
Locked in shell shock, with two Arsenal goals arising in four minutes, Newcastle needed a fast response. Although the remainder of the first period offered very little salvation, Carver's men would come out fighting in the second forty-five.
Just a few minutes in and the tone of the half was set, with an un-marked Sissoko capitalising on some idle Arsenal defending to power home from Perez' low cross.
A barrage of Toon chances then came to fruition, as Perez had his long-range curling effort elude the far post, before Gouffran hit a tame effort at Ospina amidst a mad scramble in the box.
Paulista and Koscielny were regularly on call to evade the danger and Arsenal managed to see out the game to secure another Premier League victory and maintain their push for Champions League qualification. One question remains though… Can Wenger's side go all the way this season?
This result confirms an excellent run of form and, should this continue, I see real potential for an Arsenal title challenge for a number of reasons…
Strong Starters
Although the hallmark of title-winning pedigree is seen as the ability to grab a winner in added time, ensuring you start well is a proven trait of sides vying for the title. The side were sloppy in the second half against Newcastle but had the game close to won in the first half. Newcastle of course played a part with a lack of urgency to press, but the Gunners made certain they would go into the next forty-five with a healthy lead under their belts.
Perhaps a little fatigued from the heroic mid-week win at Monaco, Arsenal no doubt felt they would fade in the second so got the job done bright and early. As the race for the title continues, it is of paramount importance Arsenal can get the opposition on the back foot as quickly as possible, especially in the big games.
Change Of Approach

Speaking constantly about Arsenal 'boycotting' their former style in order to snatch unlikely victories, there has undoubtedly been a change in Wenger's approach this campaign. For that reason, a title push seems more realistic than any other recent season.
Both goals came courtesy of set-pieces, an area Arsenal are beginning to take more advantage of. Although susceptible to conceding in the same way, the Gunners now offer a far greater physical threat via the likes of Giroud or Welbeck and are no strangers to bagging the odd headed goal.
Substance Over Style
Reflect on the Premier League's younger history and the likes of United, City and Chelsea have all had a string of one-goal victories dominating their respective seasons, which end up accumulating to a mammoth points tally.
No longer are Arsenal looking to roll teams over four or five nil attempting to play the 'perfect' football, it has now become apparent to Wenger that such a strategy is impossible to conduct in such a competitive league. As a result, the Gunners now play more conservatively and accept that they must defend first and take the opportunities when they come.
With attacking talent as good as any side in Europe, the Arsenal downfall has always been the defensive side to their game, but with this tightening since the capitulation at home to Monaco, Arsenal seem more capable in dealing with great pressure on the back-line and are growing as a defensive unit, as we embark upon the final chapter in this Premier League season.
Goals All Over The Pitch
Whatever Lionel Messi and Barcelona may tell you, it is near-on impossible to win trophies through the talents of one attacking talent. Fortunately, Arsenal's goal tally is well distributed across the front-line, not least through the dangerous duo of Giroud [15] and Sanchez [13].
Every game is a team performance and no amount of individual prowess and quality can overpower such unity, which Arsenal have in abundance. The core have performed regularly over the past few seasons and the players added each season, e.g. Özil, Sanchez are team players, eager to set up others for goals.
Against Newcastle on Saturday, yes both goal came from Olivier but Sanchez, Welbeck and Cazorla all created chances and had the odd opportunity themselves. The side are like clockwork at times and the fact goals can truly come from all areas only re-iterates how much this team spirit could pay off come the end of the season.
So ultimately, I would put Arsenal well and truly in the frame to cause some problems for Chelsea as the season draws to its close. The Blues are six points clear with a game in hand but they aren't been playing that well recently and we still have to play them at the Emirates. Let's just take each game as it comes and who knows what could happen…
Other News
Arsenal have failed with an opening bid for Napoli striker Victor Osimhen, Italian outlet...

Manchester United will make the strongest bid to sign Barcelona midfielder Frenkie de Jong...