[Video] Drunk Wilshere Leads Arsenal Fans In Singing Foul-Mouthed Anti-Spurs Song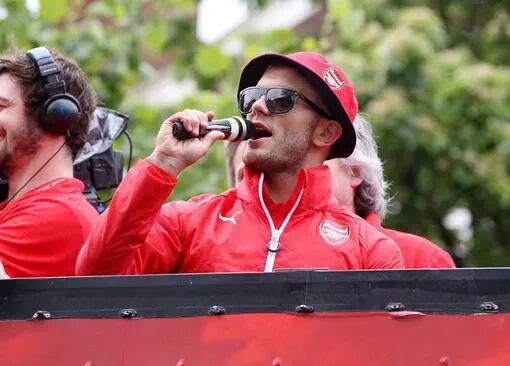 A drunk Jack Wilshere has enraged Tottenham Hotspur fans again after leading Arsenal fans in a foul-mouthed chant aimed at their North London rivals.
The Gunners midfielder joined his team-mates in partying until the early hours of Sunday morning following their 4-0 victory over Aston Villa in the FA Cup final.
Despite clearly still feeling the effects from the night before, Wilshere was pictured drinking again as the Arsenal squad embarked upon their open-top bus parade around North London on Sunday morning.
After pulling up at the Emirates at around 1pm, Wilshere joined his team-mates on the stage to celebrate in front of thousands of fans but he couldn't resist taking the opportunity to have a cheeky dig at Spurs.
After taking to the mic, Wilshere lead the fans in signing a well-known chant aimed at their rivals.
Check it out below:
Wilshere: "(Whaddya think of Tottenham?!) SH*T! (Whaddya think of Sh*t?!) TOTTENHAM! (Thank you!) THAT'S ALLRIGHT! pic.twitter.com/UXm5sWkqld

— Indonesian Gooners (@ID_Gooners) May 31, 2015