Dare to Dream: Can Spurs really beat Arsenal to the Premier League title?
Writer Chris Weir looks at how Mauricio Pochettino has transformed Tottenham and assesses whether they can really beat Arsenal to the Premier League title
As we head in to the business end of the season, writer Chris Weir looks at how Mauricio Pochettino has transformed Tottenham and assesses whether they can end their long wait for a title….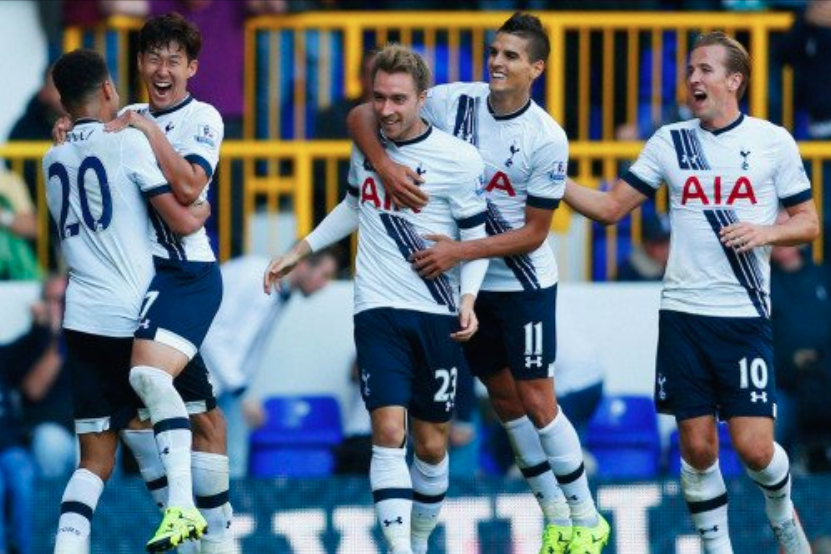 When Nigel Adkins was sacked from the Southampton job in January 2013, fans on the south coast were outraged.  This was the latest example of a dictatorial chairman wading into club affairs, getting rid of a coach that had delivered the Saints from the purgatory of life in the footballing doldrums.
Adkins' replacement, Mauricio Pochettino, had been an accomplished defender without ever threatening to become a regular starter for Argentina. He had carved out a decent playing career at PSG and Espanyol, but English fans remembered him best (if they remembered him at all) as the player who fouled Michael Owen to concede David Beckham's redemptive penalty at the 2002 World Cup.
Just over three years later, having firmly established Southampton as a top tier side, Pochettino could be on the brink of leading a vibrant Spurs to their first Premier League title.  At the time of writing they sit second in the table, ahead of Arsenal on goal difference and having still to play their North London rivals at home.  They have won five of their last 6 games in the league, including a phenomenal display of heart and courage in a 2-1 victory over Manchester City at Eastlands.
Spurs have always been, in one way or another , one of the most entertaining teams in the Premier League.  Artisans like Dimitar Berbatov and David Ginola have been shining islands of quality in mediocre sides that even Spurs fans treated with a wry self-deprecation.
This season, though, the rest of the League isn't laughing.
When he was appointed in May 2014, Pochettino's brief was simple – get Spurs into the Champions League, and anything else would be a bonus.  Whilst they narrowly missed out on this, a strong 5th place finish was bolstered by the emergence of several promising young players, particularly Harry Kane.  The young Englishman blasted 31 goals in his full debut season, supported ably by a pulsating Christian Eriksen and a resilient midfield.
This year, however, the Lilywhites have taken a major leap.  Kane has defied the critics who were waiting for his star to fall this season, continuing his rich vein of scoring form after a slow start.  Meanwhile, Delle Alli and Eric Dier have morphed a workman-like midfield into one of real promise and potency.  The stout Belgian defence of Toby Alderweireld and Jan Vertonghen have blocked most efforts on Hugo Lloris' goal, but when they do get through the Frenchman has been in similarly top form.
Spurs players now look visibly leaner  and fitter under Pochettino.  Even as the seconds ticked away in the dying minutes against City, groups of their players harried for the ball like a pack of hungry hyenas.
All of this is fine – but can they do it? Can they win the Premiership title?
Leicester have the easiest run in, but their confidence may have been shattered by the bitter last minute defeat to Arsenal at the weekend.  The Gunners look determined to throw away their best chance at a Premier League title since the Invincibles season of 2003/04, and will no doubt be demoralised after the inevitable pasting to come from Barcelona in the Champions League.
Manchester City, meanwhile, are dead men walking under Pellegrini and will be more concerned with European matters after going down to Spurs and the Foxes at home in recent weeks.
If Spurs can defeat their great rivals at White Hart Lane on March 5, the title may just be within their grasp.  This season has been remarkable in that all of the 'top' teams have failed to live up to expectations, but if Spurs are ever going to win the League you feel that this is their only chance.  Next year could be too much for them, with Chelsea and both Manchester sides expected to have new managers with points to prove.
Spurs fans have always dared to do.  Now, they can dare to dream.
Other News
Manchester United have turned their attention to signing Arsenal target and PSV Eindhoven forward...

Manchester United have the opportunity to sign Lazio midfielder Sergej Milinkovic-Savic for around £50...