The Weekly Roundup: Harry Mugs Mourinho, Almunia Wins Award & Champions League Predictions
A light hearted look at the week's events in the world of football in a packed edition of The Weekly Roundup
A light hearted look at the week's events in the world of football in a packed edition of The Weekly Roundup
Fernando Torres hasn't had the best of starts to life at Stamford Bridge – at least that's the censored description – he has in fact had a stinker, seven games and running of nothing short of diarrhoea, continuous, smelly poo (OTT? Apologies). However, he should seek some comfort with the knowledge that it will all soon get better, well according to Andriy Shevchenko anyway, "Torres needs to believe in himself and stay very calm because the goals are coming. I know he works hard, maybe he shouldn't think about it. Chelsea play different football to Liverpool, he needs time to adapt. The price of the transfer was very high and in England everyone is putting a lot of pressure on him. I think he has to be relaxed and not be worried, he's a big name, a big player and goals are coming" Speaking from experience Andriy?
Seeing as Mario Balotelli forgot the dynamics of how you put clothes on…http://www.youtube.com/watch?v=WAtYlc1BsK8
The Weekly Roundup thought it would provide him with a step by step guide if he ever found himself in that predicament again…..  *Must Watch* http://www.youtube.com/watch?v=CNe7uDyaoIs
Barcelona are apparently so much better than everyone else that there looking into the prospect of giving up football and conquering other sports….http://www.youtube.com/watch?v=GZbVohsCl3Q                                                               
The standard of Italian football has arguable dropped over the last few years but fortunately their warm up's have really picked up and are  second to none. AC Milan vs. AC Bari *Must Watch* http://www.youtube.com/watch?v=gWRP10Mm5cU&feature=related
What the f*ck was that you ask? Well it's a marketing stunt by Italian newspaper Gazzete de Sport using lookalikes from Ac Milan and Ac Bari, so Genero Gattuso credibility remains intact for another day at least, well sort of.
Highlights of the week
Idiot Optimist of the week goes to Mohamed Bin Hammam who announced this week plans to run against Sepp Blatter for the FIFA presidency this June. The Weekly Roundup sincerely wishes you luck, as you're going to need it (as well as a few friendly bribes)
Performance of the week has to go to Man United fan, ex Arsenal goalkeeper & fashion icon Manuel Almunia
Quote of the week goes to Gerard Houllier who said "I told the players we have eight Champions League games left to play. I think we will do it. I am convinced we have everything it takes", everything but Champions League experience.
Reaction of the week goes to Roberto Mancini after he allegedly threw a suitcase at Mario Balotelli, after the striker was sent off against Dynamo Kiev. I'm sure it's a reaction that Mancini will regret, as he'll now need to buy himself a new piece of luggage in the summer.
The Weekly Strip – The champions League draw threw up some cracking ties for the next few rounds. Here are The Weekly Roundup's set of predictions of what to expect from the games.
Chelsea Vs Manchester United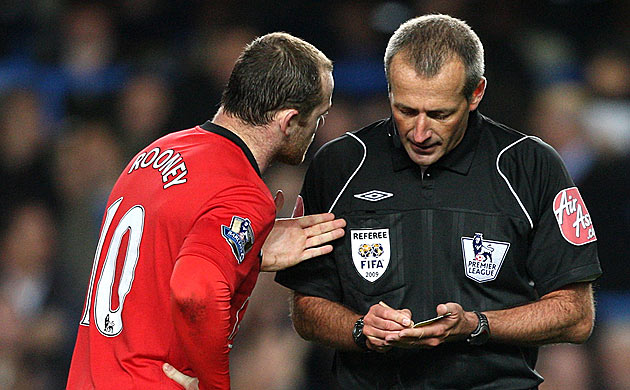 Martin Atkinson to referee the tie at Stamford Bridge, Howard Webb to referee the tie at Old Trafford and the two officials will cancel each other out. Torres will double his Chelsea goal tally and Vidic will last ninety minutes.
Real Madrid vs. Tottenham
Arry is equally as shifty as Jose and has an axe to grind with the Madrid gaffer, after he was mugged on a trip to Madrid. Allegedly Jose had nothing to do with the incident, but it all seems a bit to coincidental for TWR and we're sure Arry doesn't buy that marlarkey either. What the result will be between the two sides god knows, but one thing that is certain is that Jose will leave the capital a few valuables lighter.
Barcelona vs. Shaktar
Shaktar will park the bus, their aeroplane, all eleven players, coaching staff and travelling fans at the Nou camp to gain a scoreless draw. On their return leg in Ukraine they'll create an unplayable field by digging potholes on their plastic pitch and through the powers of lady luck will win the game 1-0 as a deflection from a bobble win roll past Valdez in the final minute of the game.
Inter Milan vs. Schalke 04
Already the forgotten game, Inter and Schalke won't be too bothered about that as they'll be able to go about their business quietly and one of two will take the trophy.
Look out for The Weekly Roundup every week and feel free to follow me on twitter @marvinwilliams
Other News
Arsenal are closing in on a £25m deal to sign Alvaro Morata from Atletico...

Chelsea are on the verge of signing Sevilla defender Jules Kounde, Spanish publication AS...