Arsenal vs Liverpool: Preview, Injury Update & Predicted Team
Arsenal take on Liverpool in what promises to be a very 'crucial encounter' this season. The last time we faced Liverpool was on the first day of the season, and from that point to this, there has been a huge transformation in their team. They have a new managers at the helm, as well as new players, and in a nutshell it's going to be difficult to beat them.
Injury News :
Here is the boss' update :
"We have no [new injuries] but we have a big doubt on Sagna," Wenger told Arsenal TV Online on Thursday.

"Djourou and Wojciech are question marks. Will they be fit? That all has still to be decided. We have two more days to find out. It could be a possibility that they could be available.

"It's difficult to say [what their chances are]. We have a test today [Thursday], we have a big test to see how they survive the training session. That will be very important.

"Denilson and Song have a chance to be available as well."
Thomas Vermaelen will not be fit to face Liverpool but Wenger confirmed that the Belgian defender is back in full training after missing most of the season with tendon problems.
"I am not reluctant [to use him] but he is not match fit yet," said the manager. "He just joined the team this week so we have to be a bit patient with him."
Probable Line-up :
IF we are optimistic, this should be the team…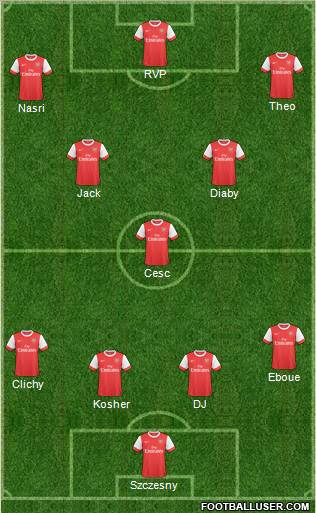 But IF we are logical, then this should be the probable line-up..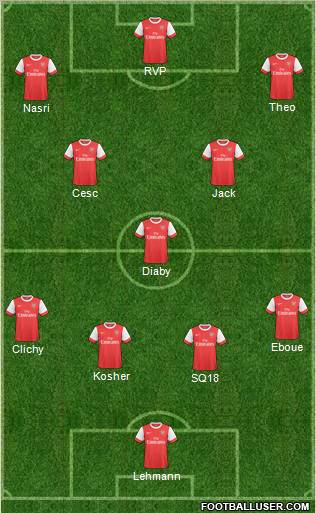 Subs: Szczesny/Almunia/Shea, Gibbs, Denilson, Song, TR7, Nikko, Chamakh.
Final Thoughts:
King Kenny has really transformed his old club, and this is the same team which thrashed both Manchester teams by 3 goals. Controlling the game from the beginning will be key, and defending, especially against Suarez and Carroll must be spot on.
Guns-out,
Other News
Manchester United take on Real Sociedad in the second leg of their Europa League...

Arsenal take on Benfica in the last-16 of the Europa League on Thursday evening....