Arsenal vs Stoke City: Preview, Team News & Predicted Team
Last time we met Stoke (at home) we beat them 1-0 thanks to a Squillaci header in the 8th minute. Stoke can hurt us because their strong point is our weak one; set pieces. We will truly be put to the test come Sunday when we will have to defend countless throw-ins and set pieces from our opponents.
Carl Jenkinson will miss the match against Stoke and will be out for 2 weeks so I guess  Djourou should fill in at right back.
Probable Line-up :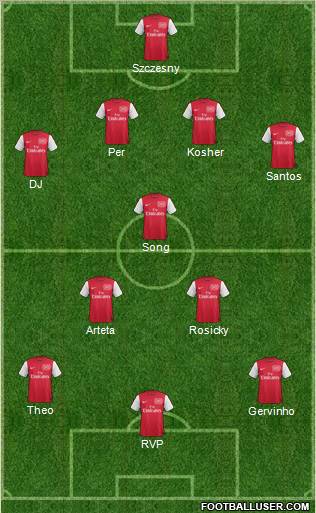 The crucial thing in this match will be to score fast. Stoke are a defensive team and will most likely look to unsettle us with cheap throw-ins, fouls and corners. They will sit back and let us play, and try to break on the counter. The first 20 mins of Sunderland saw us at our expected level, and if we play like that I am sure we will get our 3 points. Kosher was brilliant in France and if he continues like this he can be our Vidic.
NOT to do: Concede unnecessary free-kicks, stupid fouls, panic and let Stoke exert themselves on us.
TO do: Play our natural game and we will pick them apart.
Other News
Arsenal know they need to beat Everton at the Emirates on the final day...

Manchester United finish-up a hugely disappointing season when they take on Crystal Palace at...