Beckenbauer Reveals Why Aliens Were At Chelsea v City & The Need For A Galaxy XI
Did you notice the strange men dressed in robes at Stamford Bridge recently? Well footballing legend, Franz Beckenbauer, has revealed all by explaining their presence at football grounds across Europe and why he's set to create a 'Galaxy XI'.
The World Cup winner was pictured at the recent Chelsea v Man City game with a mysterious robed man sitting behind him in the executive box and a number of these mysterious guys were also seen among the crowd at Stamford Bridge.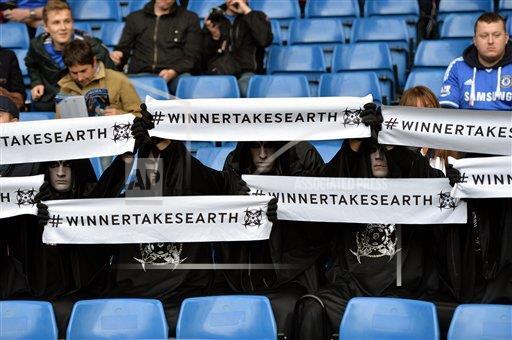 These mysterious folk have been spotted at Bayern Munich and Juventus games as well in recent weeks which follows pictures of weird symbols being seen in London, New York and Rio de Janeiro.
Fans have been speculating on social media sites over what it all means and after the Blues match last Sunday, Beckenbauer released a mysterious circles video (below) to explain what's been going on.
In the extraordinary video, the 'Kaiser' claims that the men are aliens from another planet who are here to take on a 'Galaxy XI' football team with the future of the earth at stake.
Beckenbuer will now take charge of the 'Galaxy XI' and will be searching the globe to come up with what he feels is the best selection of players to save the planet.
There were surely a number of candidates on show at the Chelsea v City game, with the likes of Cech, Cole, Terry, Hazard, Mata, Augero, Toure and Silva all likely to be under consideration.
Social media sites are buzzing with football fans speculating over what the Galaxy XI will look like and Beckenbauer has promised to reveal the first name on his team-sheet on the 11th of November. Watch the video below and get involved in the discussion on Twitter using the hashtag #WINNERTAKESEARTH
This is a sponsored post.