[Tweets] Ozil, Wilshere + More: Arsenal Players React On Twitter To Vermaelen Exit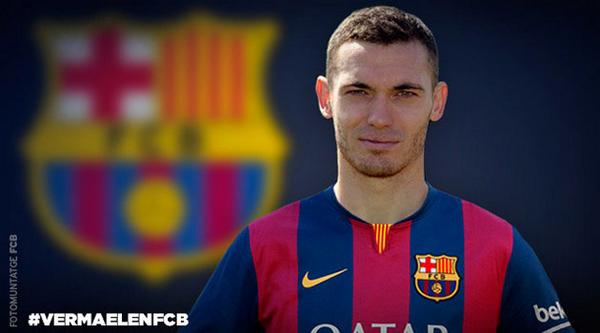 Thomas Vermaelen sealed his move to Barcelona on Saturday afternoon after the Catalans agreed a deal with Arsenal for his signature.
The 28-year-old was expected to leave this summer after losing his place in Arsene Wenger's starting eleven 18 months ago, and although the boss wanted to keep hold of him, as he had just one year remaining on his contract we've been forced to cash-in rather than risk losing him for nothing in 12 months time.
Barcelona confirmed his signing earlier on Saturday with Vermaelen due to officially sign a long-term contract in front of the media at the Nou Camp on Sunday afternoon.
As the Belgian has been at the club for five years, it's safe to say he's formed some close friendships in the dressing room and unsurprisingly a number of players have taken to Twitter to say their goodbyes.
Mesut Ozil, Aaron Ramsey, Jack Wilshere, Kieran Gibbs and Lukas Podolski have all reacted to Vermaelen's exit with the boys all wishing their former skipper good luck at Barcelona.
The Belgian international needed a fresh start and we got good money for him, but the important thing is that Wenger now goes out and signs a suitable replacement. We'll have to see what he brings us.
Here's what the players had to say on Twitter:
all the best for the future @T_Vermaelen05 #Arsenal #AFC #captain #VermaelenFCB pic.twitter.com/mIK4gI7IyH

— Mesut Özil (@MesutOzil1088) August 9, 2014
Best of luck to @T_Vermaelen05 at Barcelona. Will miss our rounds of golf #mean5iron pic.twitter.com/0I7pq9nsBd

— Aaron Ramsey (@aaronramsey) August 9, 2014
Good luck skip! @T_Vermaelen05

— Jack Wilshere (@JackWilshere) August 9, 2014
Good luck captain in Nou Camp! Will remember you as a top guy and our good time together for Arsenal. AHA!! Thomas all the best for u. Poldi

— Lukas-Podolski.com (@Podolski10) August 9, 2014
Good luck Tommy @T_Vermaelen05 #FCB #AFC http://t.co/ATP71N2FFu pic.twitter.com/xIdONvDyM6

— Kieran Gibbs (@KieranGibbs) August 9, 2014