Tottenham vs Arsenal: Injury News & Predicted Line-up
Arsenal travel to their 'friendly neighbours' Tottenham mid-week in the Premier league. Spurs come off a 5-0 agg. loss to Real Madrid, whereas Arsenal come from a 1-1- draw with Liverpool. We have to win at the Lane, because United are clear at the top and we need to close the gap.
Injuries :
Nothing 'new', but don't be too happy, its Arsenal we are talking about here. We get injuries as fast as that Rebecca black video gets dislikes in YouTube. Sagna should return to the starting line-up.
Probable Line-up :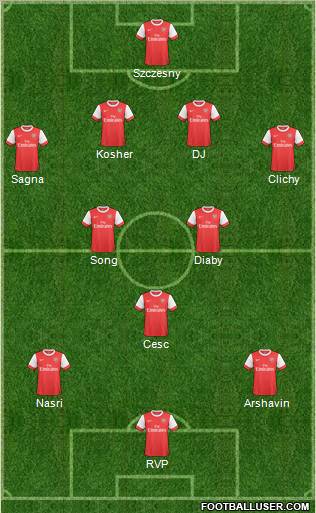 Subs : Lehmann, Gibbs, SQ18, Eboue, Jack, Theo, Nikko, Chamakh
Final Thoughts :
Ok then, let's keep this short and brief. Both teams will be looking for 3 points but for completely different reasons. One will be to finish 4th and the other to finish 1st. We have already thrashed them once, thanks to a brace from Nasri, so let's hope he gets lucky tomorrow…
Guns-out,
Best of the web